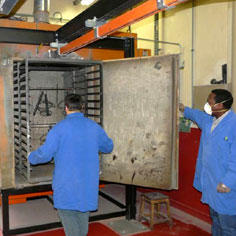 Social and Employment
Place
Paris, XIIth district, France
Sponsor
Alain Bunisset
Grant(s)
30,000 € to the Selection Committee at 2007/12/04
Project leader
"The modernization of the metalworking and epoxy shop provides a reason to collaborate with this establishment. It could make certain pieces of equipment of our Veolia Water installations: hook fasteners for lines of the Paris sewer network, for example. This partnership could even lead us to consider the production of highly specific parts. And thereby help to perpetuate the jobs created."

Alain Bunisset
In the XIIth district of Paris, the association GERRMM (Groupe d'Études et de Recherche pour la Réinsertion des Malades Mentaux) manages an extremely active ESAT (Establishment for Aid Services through Work).
Many very specialized workshops are in fact proposed there for the psychotic adults - men and women - who frequent the premises.
The ESAT is thus developing activities in metalworking (machine shop, welding, epoxy), electromechanics (assembly, wiring, production of terminals, electrical cabinets, lighting fixtures for designers, etc.) and industrial sewing - embroidery.
The employees work on strictly professional equipment - identical to the machines used in the small and medium undertakings.
Better working conditions
This high technology means a great deal for the psychically challenged persons who work here. Thanks to the close attention demanded by the various crafts and machines available, they are stimulated intellectually, physically, in gestures and socially.
And insofar as the ESAT guarantees them a protected professional environment, they gradually recover a measure of self-sufficiency, with better risk management.
In order to preserve the professional standards and quality, the ESAT today needs to renovate and expand its metalworking shop, which operates with second-hand equipment acquired in the 1990s. This renovation, which the Veolia Foundation agrees to finance in part, will offer several advantages: the ESAT's production will remain adapted to the demand of the clientele, the handicapped workers will retain a real technical role in the products they fabricate, and their safety conditions will be seriously improved. Finally, a number of repetitive or meticulous tasks, and the laboriousness of certain workstations, will be substantially reduced.
In addition to the purchases of machine tools aided by the Foundation, the ESAT also plans to reorganize the work areas and to improve the ventilation systems. These arrangements are designed with a constant concern to enhance the comfort and empowerment of the persons welcomed in the workshops.