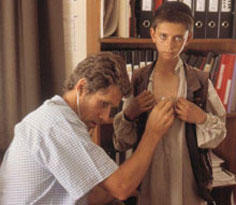 Humanitarian and Development
Place
Kabul, Afghanistan
Sponsor
Bruno de Buzonnière
Grant
500,000 € to the Board of Administration at 2014/05/26
Project leader
Enfants Afghans
Since the fall of the Taliban regime and in the wake of more than twenty years of almost uninterrupted conflict, Afghanistan has little in the way of health services apart from what the many international NGOs present on the ground can muster.
Marine Jacquemin, a senior reporter at France's TF1 television channel who feels deeply concerned by the situation, and Doctor Éric Cheysson, head of department at the René Dubos hospital in Pontoise have decided to act by setting up a children's hospital in Kabul. The Enfants Afghans association was founded for this very purpose. It also oversees the training of the healthcare staff running the new hospital.
Skill-centered patronage thanks to Veoliaforce
The new hospital, called l'Institut médical français pour l'Enfant, has three distinct functions: a department of general, visceral surgery and paediatric traumatology, a department of obstetrics and neonatology, and a department of specialised surgery (heart surgery, neurosurgery). In view of the considerable expense involved, the project was completed in phases to enable the first units to open as soon as possible and allow time for fundraising.
For their part, Veolia and the Veolia Foundation adopted a twin-track strategy by providing 500,000 euros in funding and pursuing a skill-centered approach to patronage in early 2005. Thus a study of the buildings' solid waste processing was carried out by a member of Veolia as part of a Veoliaforce mission.
The hospital, which was inaugurated in April 2006, is now functioning: run by the Aga Khan Development Network, its medical coordination and its surgery projects are under the responsibility of the nonprofit La Chaîne de l'Espoir, specialized in children's healthcare and education. The hospital has a hundred beds, including fifteen for intensive care, an operating block with four operating theaters, a radiology ward, an analytical laboratory and a pharmacy. On April 3, 2006, the first open heart operation in the history of Afghanistan was successfully completed by Prof Alain Deloche and by Dr Daniel Roux and his team from the Toulouse University Hospital, alongside Afghan personnel.
In four years, the French hospital in Kabul has received more than 70,000 outpatients, and more than 4000 children have been operated there. 420 persons, including 400 Afghans work there daily, and missions of unpaid French specialists (surgeons, doctors, nurses, pharmacists, biomedical engineers, etc.) occur at a regular pace to provide operations and healthcare for the large possible number of children, and to train local medical teams.
In 2009, the French hospital in Kabul was the first institution in Afghanistan to obtain ISO 9001: 2008 certification "Quality Management Systems" for its management and the quality of the care dispensed to the patients.