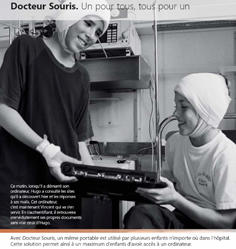 Social and Employment
Place
Nice, France
Sponsor
Marjorie Lisbona
Grant(s)
25.000 € to the Selection Committee at 2006/03/28
  Project leader Docteur Souris
At the hospital, the most painful moments past, one gets bored. Everyone who has been hospitalized knows this. In 2002, Microsoft France decided to give the computers produced by the renewal of its IT capability to hospitals or medicalized centers. The aim was to offer the convalescing children and adolescents a pastime. The association Docteur Souris was born.
Wifi and webcams
But a computer without an Internet connection… that isn't much fun! Microsoft therefore joined other big names in IT (HP, Computer Associate) to offer complete IT systems, with Wifi networks. Its PCs are reconditioned by Restos to Cœur and the students of a number of IT schools (especially SupInfo) provide free maintenance. Forty pediatric wards are equipped with 300 computers connected to the Internet in the Armand-Trousseau, Necker and Robert-Debré hospitals in Paris, and Debrousse Hospital in Lyon. The young folks in hospital surf the web and check their email. Even better: equipped with webcams, some computers enable them to converse with their families and friends almost naturally.
Today, faced with the success of these many installations, Docteur Souris has set a project to equip the pediatric ward of the Archet II Hospital in Nice, for about 52 inpatients and 28 outpatients. About 100 PCs will be installed over a three-year period (accounting for a renewal rate of one-third per year).
To enable the young patients of the Nice area to surf the web in their turn, The Veolia foundation helps Docteur Souris with a 25.000 euro grant.