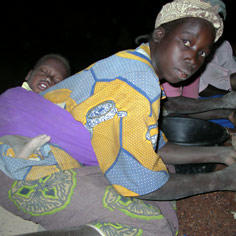 Social and Employment
Project leader
La Maison des potes de Narbonne
Place
Ziga., Burkina Faso
Sponsor
Arnaud Briant
Grant(s)
5 000 € to the Selection Committee at 2007/01/31
«A project of this type is particularly justified and expected in such a village, where less than 10% of the girls go to school. By offering to their daughters the possibility of going to school, and acceed to more autonomy, the women in this group wish to diminish the cultural weight of forced marriage ».
Arnaud Briant
In Ziga, a village located near Ougadougou, less than 10% of the young girls go to school since they do not have enough money. Their mothers need to find their financial means so they may give their daughters the opportunity of schooling.
A market in great development
« La Maison des Potes de Narbonne » is an association which has been working for many years on international programs for young children in the country of Burkina Faso. The association has a new aim: help the women of Ziga. To do so they have decided to teach the production and sale of karite butter.
A market in great development
The fruit from the karite which is a small tree that grows in the savanah, Sahel desert, is a small almond that has been cherished for many years by African women. A very soft butter may be extracted that is used to help dry skin and dry hair.
The benefits of this plant has been known in Europe for a few years which creates an opportunity for the women of Burkina Faso. By getting closer to SY, a national feminist association that already produces biologically certified (Ecocert) karite butter, the people who started this project thought that karite butter would help the women of Ziga take their future into their own hands.
The semi industrial exploitation of these karite nuts requires the construction of a drying workshop. Additionally it requires the purchase of machinery to break, crush and roast and transform this into a commercial venture.The Karipur project also includes training of the woman who shall be working in the workshop.
The Veolia foundation has been contacted to finance these various installations. Thanks to their personal creativity, young French people have been able to fund one third of the budget. They have also become involved in looking for possible local financing. In 2006, a first building has been built in order to start ; this was a first step and the relationship between the young « potes » and the woman from Ziga got really closer, convincing them that part of the benefits should help them put their daughters in school.