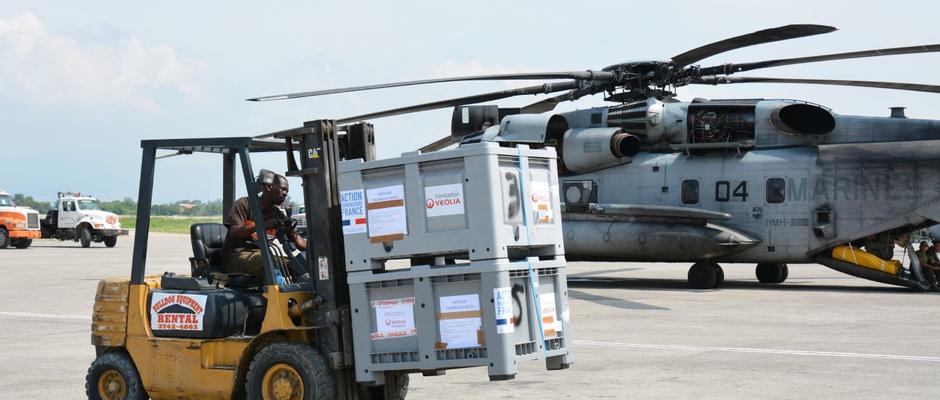 Humanitarian & Development
Location:
Haïti
 
Date :
October 2016
 
Assignment type:
Water
Technical diagnosis
Operational support
Installation of emergency equipment
Post-crisis evaluation
In the days following the hurricane, the French NGO ACTED approached the Veolia Foundation to organize a humanitarian emergency mission.
At the humanitarian platform in Massy-Palaiseau (91), where the Foundation stores its emergency equipment, a team of volunteers mobilized to prepare and pack 2 tonnes of water purification equipment and ensure its transport to Haiti.
A plane chartered by the Ministry of Foreign Affairs left Paris on October 10, carrying:
6 Aquaforce 500 water purification units, with a capacity of 2 m3 per hour each
6 storage tanks, with a holding capacity of 3 m3 each
Pumping equipment to transport and distribute water by truck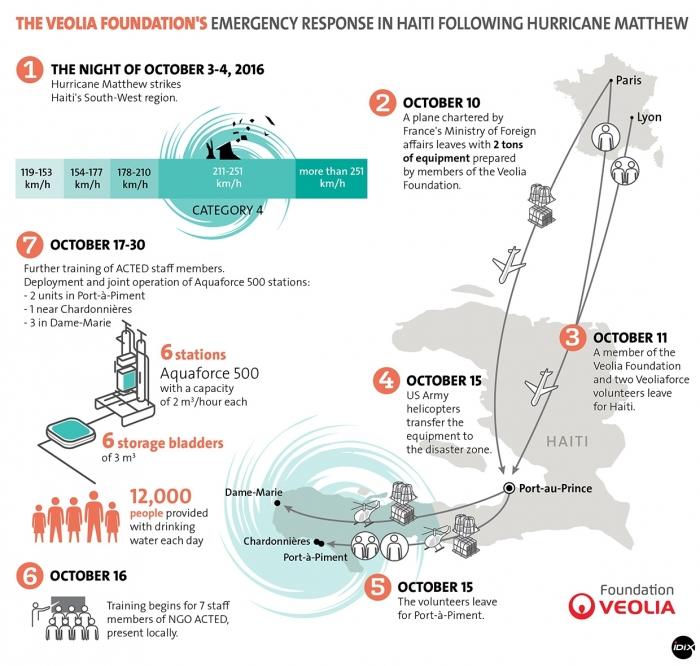 On October 11, a member of the Veolia Foundation and a volunteer from the Veoliaforce intervention team flew to Port-au-Prince. They were initially responsible for receiving the equipment and organizing its transfer to the priority sites identified by the UN Humanitarian Coordination and Haiti's Drinking water and wastewater national office (DINEPA) as having the greatest need for drinking water. At the same time, they recruited 7 ACTED staff members to be trained in the use of the Aquaforce 500 stations and ensure their day-to-day operation.  
A second Veoliaforce volunteer joined the team a few days later, and at the same time, Veolia employees in Guadeloupe mobilized and offered their support to the Foundation.
On October 15, all the emergency equipment left Port-au-Prince to be dispatched to their deployment sites. The Aquaforce 500 units were carried aboard US Army helicopters, as road conditions were too uncertain to consider trucking.
 
The Veoliaforce team, accompanied by members of the NGO ACTED, left for Port-à-Piment by car to begin the theoretical and practical training, set up the equipment and quickly start the production and distribution of drinking water. Once all the units were up and running, the Veoliaforce team remained in support of ACTED staff for several weeks, to ensure they encountered no difficulties using the equipment.
A TV report about humanitarian aid in Haiti :
*
* *
 
Publication in ReliefWeb, 26 octobre 2016 :
​