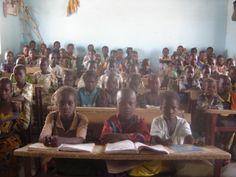 Humanitarian and Development
Place
Tanghin-Dassouri, Burkina Faso
Sponsor
Lionel Lacroix
Grant
4 500 € to the Selection Committee at 2007/10/02
Project leader
Espoir jeune burkinabé
"This very concrete project serves the major cause of improving the living and development conditions of 5 600 children on the spot. Besides, it fits into the resolution of the world problems connected with sanitation."
Lionel Lacroix
Since it was created in Salon-de-Provence in 2006, the association Espoir jeune burkinabé is completely devoted to the development of the rural commune of Tanghin-Dassouri, located 30 km southwest of Ouagadougou. Its president, who lives half of every year in the villages, strives each year to check the needs and expectations of the population.
In this community of 20 villages (population 66 000), the association is working in several areas: hygiene, health, education, improved living conditions. Among these various fields of action, school attendance has priority, because 40% of the children do not go to school. Their very poor families cannot always sacrifice part of their income to send their children to school, and for those who can, the distance (many children are forced to travel several kilometers on foot to go to school), the overcrowded classes (80 to 100 pupils) or precarious buildings don't make things any easier.
Urgently correcting the hazardous condition of certain buildings
To guarantee satisfactory health conditions for the children during their school attendance, the association wants to provide each establishment with lavatories (for boys and girls). Of the 18 schools in the commune, only four have them. In the other 14, the facilities are sometimes dangerous because obsolete (some floor slabs are near to collapse).
Faced with this situation, the Veolia Foundation decided to help "Espoir jeune burkinabé" so that the 5 600 children of the commune of Tanghin-Dassourin can go to school in a healthy environment.