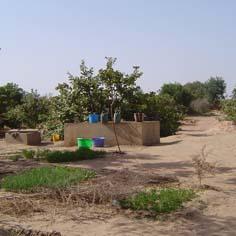 Humanitarian and Development
Place
N'Diaganiao rural community, 80 km east of Dakar., Senegal
Sponsor
Dominique Duda
Grant(s)
€7,000 to the Selection Committee at 2005/12/06

  Project leader Amitié Godaguène
«  I want to support this project since I believe that it is totally in keeping with the spirit of our foundation. ! »

Catherine Chauvet-Catala
Like much of Senegal, the N'Diaganiao urban community, which is 80 km east of Dakar and administered by the M'Bour département, is beset by serious health problems. The inhabitants are suffering from a lack of water, and the little there is is of poor quality. This is a region where half the people are less than 20 years old.
A friendship between a person originally from that region and another living in Saint-Herblain (44) gave rise to the creation, in 1984, of the non-profit organization Amitié Godaguène, which followed in the spirit of a twinning agreement concluded in 1986 between the two localities. In a little less than 20 years, this cooperation has generated development programs in supplying water, in education and in market gardening carried out with the French NGO Eau Vive, a German non-profit organization focusing on cooperation, Sankt-Ingbert-N'Diaganiao, and local women's groups.
Avoiding a rural exodus
Another project is now being set up and will run for four years. Eleven literacy huts with latrines will be built and 12 family gardens will be created in the community. Supported by the residents of the 37 villages belonging to the rural community (approximately 45,000 people), its objective its to improve their living conditions in order to avoid a rural exodus to Dakar's poor neighborhoods.
This project will proceed hand in hand with the gradual extension of the water supply network, which is being financed by the city of Saint-Herblain. As water arrives in the villages, fenced-in family gardens will be created near the functioning standpipes. It will also form part of a comprehensive project begun in 2002 to train 34 literacy teachers and build literacy huts using plant materials.
The Pays-de-Loire regional council, the Loire-Atlantique departmental council, the German non-profit organization Sankt-Ingbert-N'Diaganiao and Amitié Godaguène have pledged funding for this new project. The Veolia foundation is providing €7,000 euros, which will be used to build the huts, fence in the gardens, install latrines and buy tools.