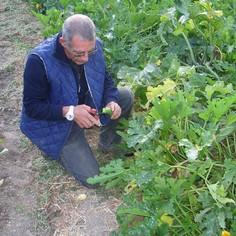 Social and Employment
Place
Saint-Martin de Castillon, France
Sponsor
Franck Haaser
Grants
40 000 € to the Selection Committee at 2009/12/01
40 000 € to the Selection Committee at 2015/09/16
Project leader
"The Bergerie Berdine is a place apart, set in the very heart of the Luberon in an abandoned village that has been gradually restored by residents and volunteers. It welcomes people for whom it is often the last resort, people who have been relegated to the margins of society because of their great social and economic difficulties and in particular their physical and mental frailties."
Franck Haaser
Since 1973 the Bergerie Berdine has remained faithful to its vocation: to offer a welcoming place without payment or limit of stay to people in great difficulty and support them towards sustainable reintegration. Since it first opened more than 6,000 people have been supported and given a home at Berdine.
In 1977, the association moved into a ruined hamlet of about fifteen houses on the Courennes plateau, in Saint-Martin-de-Castillon in the Vaucluse. Restored over time with the help of the residents themselves, the hamlet now opens its doors to over 150 people a year. Much of the finance that funds the life of the community comes from its workshops: bakery, honey, cheese, blacksmith, sheep, wood cutting, joinery, upholstery and renovation of old furniture... All the food and agricultural activities have the AB label (organic agriculture). This almost autonomous economy empowers residents and provides them with additional skills that for some leads to secure jobs.
A nursing home in 2012
The people welcomed to the Bergerie Berdine are a mix of people in temporary difficulty, who benefit from their stay on site in order to make a new start, and others, older or sick who have chosen to end their days there. In 2012, the association decided to build new accommodation that would meet the specific needs of these residents with serious illnesses, scars from their past lives: HIV, hepatitis and various cancers. Supported by the Veolia Foundation, the Bergerie Berdine began work on creating a 600 m² building with individual rooms and living areas. This new building, called "Maison d'Aurélie" was opened in 2012 and like the rest of the Bergerie facilities meets strict environmental standards. Bioclimatic, its operation uses only a minimum of energy thanks not only to the building materials employed but also to the solar panels fitted on the roof which heat the hot water.
A living area planned for 2015
Three years later, the association has noted the need to improve the residents' living environment. The accommodation that pre-exists the Maison d'Aurélie offers unsatisfactory conditions for older people: five people have no direct access to water and eight people live in double rooms. In summer, because of the temperature, meals are eaten outside on a terrace that is not accessible to people with disabilities. In addition, poor insulation results in excessive energy consumption.
 
The logistics also need to be optimized: the food storage areas (dry storage, cold rooms, freezers, etc.) are scattered all over the village, causing difficulties in terms of access, use, and cold chain management. The current dining hall is too small for the 80-90 people that eat their meals there each day. Instead of promoting exchanges, it crystallizes tensions and in addition means it is not possible to welcome outside groups (Secours Catholique, Croix Rouge, food bank, friends and various associations) under suitable conditions. The planned improvements would also encourage families and visitors to come, something which for an association that aims to be outward looking is currently somewhat limited.
 
The new sustainable living space will include a large dining room with a fully equipped kitchen, food stores, a laundry, and a terrace. It will optimize the management and preparation of meals, and offer a welcoming and convenient space that will help to encourage exchanges between Berdine residents. Accommodation is also planned: six studios, each with a kitchenette, bathroom, and toilet, one of which is accessible to people with reduced mobility, and three rooms. The spaces vacated (double rooms, dining hall, kitchen, stores) will be refurbished and transformed to host cultural activities. Every year the Berdine troupe produces a play (Le Dindon de Feydeau in 2015). During performances the living space itself will be able to welcome the public and partner groups under more attractive conditions. The visits that will help open up Berdine and encourage exchanges with residents will then become possible.
 
The proposed building adheres to green building principles: bio-sourced materials, stone from demolition reused, green roofs and terraces, optimized energy, and resource conservation. The project will be implemented in partnership with the Marseille re-integration association Acta Vista, and is also supported by the Veolia Foundation.
 
The Foundation decided to once again support Bergerie Berdine in relation to this construction project. Alongside Anber foundations, AG2R and Financière de l'Echiquier, Associatione Maillon, Axa and Matmut, the Bergerie Berdine will able to launch the first tranche of work in March 2016.