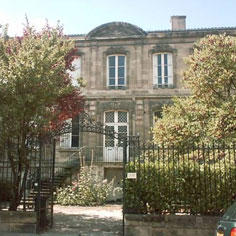 Social and Employment
Project leader
Notre-Dame des Barrails
Place
Bordeaux, France
Sponsor
Xavier Tersen
Grant(s)
30 000 € to the Selection Committee at 2007/07/03
"With a constructive approach, remote from any miserabilism, the people running the association Notre-Dame des Barrails place human dignity and respect the individual at the heart of their action, restoring its original meaning to the word charity. They play a vital role among the most destitute and all those whom the municipality is unable to accommodate in the conventional context of institutional homes."
Xavier Tersen
The association Notre-Dame des Barrails, whose volunteers have been helping vagrants in the streets of Bordeaux for the last 20 years, is opening a new center for welcoming the most destitute.
Many social centers and reception facilities are abandoned or shunned by the homeless vagrants and persons in difficulty for whom they are intended. Alongside structures set up by the authorities, which are very useful but all fit into a sometimes rigid institutional framework, the Maison de Marie now offers an alternative to the homeless of Bordeaux. Its mission? To provide a welcome, a sympathetic ear, comfort, without questions or any inquisitive or superfluous formalism. By furnishing every vagrant a snack, lodgings for the night and the possibility of washing, changing clothes, leaving a bulky bag, feeding and caring for his dog, or simply taking his weight off his feet... By offering him, above all, an attentive, friendly ear, one which is also competent for helping him claim his rights (minimum wage, etc.) and whenever possible, restoring the bond with the social organizations.
A Focus for the Association and for Those It Welcomes
The creation of La Maison de Marie confirms and prolongs the engagement of the fraternity of volunteers who have been busy with the homeless of Bordeaux since 1987. Initially known by the name Soupières de Marie (Marie's Soup Kitchen), and included since 2002 in the association Notre-Dame des Barrails, they number about a hundred today. For years, they trudged the streets by day and night, distributing meals. The scale and the quality of their work persuaded the town hall of Bordeaux to help them accomplish a new step by providing them with a former presbytery, under a 12 year a greement. Many foundations, private individuals and local companies have also mobilized to facilitate the arrangements and guarantee the operation of this open house, by supplying materials and services, by providing facilities and taking charge of water, electricity and gas consumption, etc. The grant from the Veolia foundation is being used to finance the upgrading of a building that will enable the association to have a permanent centre to expand its action.