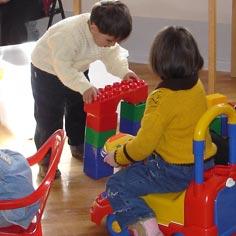 Social and Employment
Project leader
Douleurs sans frontières
Place
Gumri, Armenia
Sponsor
Gilles Venambre
Grant(s)
20,000 € to the Selection Committee at 2006/07/04
"If I could, I'd propose three projects a year!"

Gilles Venambre
Following an armed conflict or natural disaster, poor countries generally have more trouble finding the doctors needed to provide the necessary first aid. They are, as a consequence, far from being able to deal with the resultant physical and psychological pain...
Founded by French doctors in 1996, the Douleurs sans frontières (DSF) association was set up in response to this situation: when confronted with pain, the most underprivileged are those who suffer the most. The association is now active on many "fronts": Algeria, Cambodia, Angola, Palestine, Morocco, Mozambique and Armenia.
Loss of language and psychomotor retardation
In the latter country, the town of Gumri is located in the heart of the Caucasus. For several years, it has suffered a series of strong earthquakes, and has been flooded with Azerbaijani refugees from Nagorno-Karabakh, despite its infrastructure being seriously damaged by the successive earthquakes.
In the town's poorest district, home to about 28,000 people, DSF has set up operations in the Aragatz-Anna center (with the municipality's approval), which is open to children having suffered from the war or earthquakes. In partnership with Psychologues sans frontiers (Psychologists without Borders), it attempts to treat these children suffering from severe trauma: loss of the ability to speak, disturbed sleep, eating disorders, psychomotor retardation, etc.
However, the center is in a deplorable state, to such an extent that it is threatened with closure: in Gumri, winter temperatures can be as low as minus 25°C, electric heating is costly and inefficient, there is no running water and the walls are eaten away by humidity.
The 20,000 euros granted by the fondation Veolia will be used to refurbish the kindergarten (floor, murals, furniture and teaching aids) and to install central heating and running water in the main building. This work is required urgently to prevent the poor children of Gumri from being subjected to yet further trauma from the closure of the one place where they are managing, little by little, to rebuild their lives.