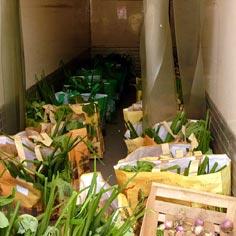 Social and Employment
Project leader
Partage 44
Place
Carquefou, Loire-Atlantique, France
Sponsor
Johanne Bouedec
Grant(s)
20 000 € to the Selection Committee at 2006/12/06
"I was impressed by how hard Marianne Loustalot, the project's coordinator, worked to make a success of the project. She suggested it to public and private organizations in the region (Carquefou's mayor, the Loire-Atlantique departmental council, Nantes Métropole, Carrefour, EDF, etc.) and it was very favorably received. She is going to great lengths to find ways to get the best price on every purchase, for example, for the wooden house."
Johanne Bouedec
In the Nantes suburb of Carquefou, a new Jardin de Cocagne, the region's first, started growing about 40 varieties of organic vegetables in the autumn of 2006. They are offered to a network of 1,000 members (for the moment) in the form of a weekly basketful. To fill the orders, the non-profit organization Partage 44, the project leader, employs 11 people under workforce-development contracts (nine had been on welfare and the other two were long-term unemployed) and three supervisors.
A response to two needs
The new garden is likely to see regular expansion. The idea for the project came from an agriculturist who approached Partage 44 because she wanted to organize a project of this type. Before the project was launched, a feasibility study was conducted on the entire Nantes metropolitan area. It found a strong need for workforce-development structures in the region, and for the moment, no competition with other organic farmers.
Given the garden's potential, the town of Carquefou was quick to join forces with Partage 44, offering it a 1.5-hectare field (to be expanded to 4 hectares by 2009) for at least eight years.
Already responding to two well-defined needs expressed in the Nantes region, the new Jardin de Cocagne will add another string to its bow within a few months when it will be open to its members and to children in schools nearby in order to educate them about organic truck gardening methods.