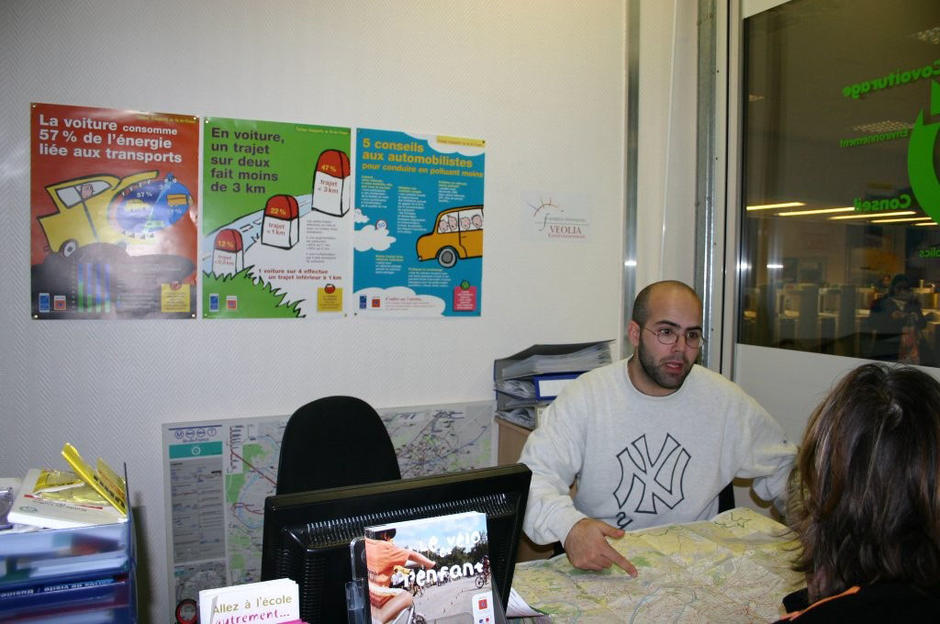 Environment and Biodiversity
Place
Nanterre, France
Sponsor
Fabrice Franck
Grant
20,000 € to the Selection Committee at 2004/09/28
Project leader
« This project has a number of points in its favour: promotion of public transport, the social integration this enables and the fact that there is a sustainable development dimension. »

Fabrice Franck
The "Petit Nanterre" district of Nanterre is cut off from the rest of the Paris area, being poorly serviced by public transport and the road network. The local population are subject to considerable deprivation with over half of the adults of working age currently jobless.
To help combat this geographical and economic exclusion, Voitures et CO, an association specialised in car pooling founded in 1999, has set up a drop-in centre where local people can access a number of services: information on means of transport available (ticket prices, timetables, etc.), tips on optimising transport time, organisation of car pooling, low-cost bike hire, cycle storage and minor repairs.
Promoting access to employment and services
This "mobility centre" has been set up in premises made available by the RATP (Paris public transport authority), at the nearest RER (rapid transport system) train station (Nanterre Université). Two ancillary offices have also been opened in the heart of the district. These three facilities have led to the creation of five jobs.
The total budget for this project was 213,400 euros, to cover the association's running costs and redevelopment/fitting out of all three premises, as well as expenses related to public information initiatives and IT tools required to organise car pooling. To meet this significant budget, Voitures et Co received backing from a number of entities including, the DIV , the DTT , l'Ademe , l'Arene and l'université Paris X (Nanterre). The Veolia foundation grant of 20,000 euros contributed to the installation of the premises.
In three years of operation of this new "mobility centre", the various players involved have proved the worth of their initial convictions: facilitating mobility for the local population and simplifying access to the municipality's various services helps ensure their social and economic integration. A success that has already prompted Voitures & Co to create a new branch in the Marseille area.