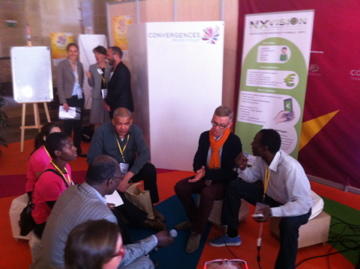 Social and Employment
Place
Yvelines - Pays-de-la-Loire - Rhône-Alpes - Nord, France
Sponsor
Philippe Lagrange
Grant(s)
€ 9,648 to the Selection Committee at 2014/05/23
Project leader
Mezzocredit
"Mezzocredit has demonstrated a capacity to make coded language and the complexities of social entrepreneurship understandable, from ideation to implementation, and even a change of scale, without neglecting the incubation phase."

Philippe Lagrange
The Mezzocredit movement, launched in 2010, is a hybrid social economy organization that proposes:
free counseling to micro-entrepreneurs, via the nonprofit Mezzocredit, to contend with the lack of training, organization and experience of the leaders of outreach projects(1).
an outreach agency, Mezzocredit Conseil et Formation, which offers consultancy and training,such as continued education as part of a DIF diploma, or academic modules for the major business schools and universities, on outreach financial instruments and the measurement of social impact.
Mezzocredit is active in the areas of Trappes, Tours, Lyon, and Lille.
(1)Every year, the lack of training, organization and experience causes half of the shutdowns or failures of the new auto-entrepreneurs or very small businesses, which have been growing steadily since 2009.
Gauging the social impact of business projects, from their inception
To supplement the offer of professional microcredit financing aimed at leaders of outreach projects, Mezzocredit is different insofar as it targets not only people excluded from the banking sector, but also those excluded from business activity, and micro-entrepreneurs who are beneficiaries of the 2005 Handicap Law. The beneficiaries are young people straight out of school - excluded from the banking sector willy-nilly by their age (under 25) - who need to structure their projects, and employees starting a career or jobless persons who want to start a business, and even seniors who essentially need to regain their self-confidence.
Mezzocredit's originality resides in its approach, which gauges the social impact of business projects from their inception. The aim is to make the entrepreneur as self-sufficient as possible, develop his financing plan, help him present his project to a potential partner. And, if need be, to offer a three-year mezzocredit for an amount between € 8,000 and € 20,000.
As of June 3, 2014, 54 project leaders have already been counseled, 240 students have undergone training in social entrepreneurship and 25 micro-businesses have been created. Eight organizations have also applied to Mezzocredit for consultancy. To expand its activities, Mezzocredit wants to make investments to enable it to gauge the efficiency of social entrepreneurship, including software packages for measuring social impact. The Veolia Foundation, recognizing the expertise of Mezzocredit on the ecosystem of social entrepreneurship, is participating in the purchase of the software packages.