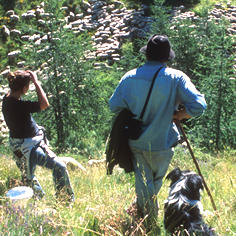 Environment and Biodiversity
Place
Var, France
Sponsor
Brigitte Allard
Grant(s)
14,000 euro to the Selection Committee at 2006/03/28
  Project leader FERUS
«  Ferus seeks to reconcile seemingly irreconcilable interests through listening and mutual respect. A very positive approach, both for sustainable development and environmental protection.  »

Brigitte Allard
The reintroduction of wolves, bears and lynxes in the French mountains is a sensitive issue that arouses heated debate. It would seem that the arguments put forward by the defenders of these predators and biodiversity are totally incompatible with the interests of shepherds whose prime concern is the protection of their flocks. A bridge needed to be built between these two camps. Over the past ten years, the Ferus association has sought to foster meetings and mutual understanding between the opponents and supporters of these animals in France.
A non-polemical approach
Using as its starting point the fact that ignorance leads to fear and rejection, Ferus rolls out a program called "Pastoraloup." It aims to recruit eco-volunteers whom it sends out to alpine pastures each summer to help shepherds protect their flocks. After several days' training in spring, they spend three weeks in the mountain pastures with the shepherd and his animals. During the few days spent together, the two "camps" get to understand each other better. The eco-volunteer's presence provides the shepherd with help to deal with the added surveillance required because of the presence of the predators.
The experiment is working well. Indeed, additional equipment is needed for it to be extended: electrified nets to protect pastures, a four-wheel drive vehicle with a trailer and mountain gear for the eco-volunteers' bivouacs. The association finances half the budget needed for this investment. The balance, 14,000 euros, is covered by the Veolia foundation to prove that pastoral activities and predators can coexist.