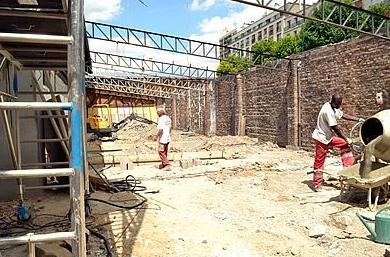 Social and Employment
Place
Pantin, France
Sponsor
Céline Campagnari
Grant
10 000 € to the Selection Committee at 2012/06/05
Project leader
Le Relais Restauration
"The team I met at the Relais runs amazingly well, the manager focuses his training on values of rigor and discipline, which he considers to be based on integration into the restaurant trades, as well as motivation and ambition. I'm going to enjoy tracking the progress of this project, which is close to my heart."

Céline Campagnari
Relais Restauration, a workforce development nonprofit in the traditional restaurant sector in Pantin (Seine-Saint-Denis), has in over 20 years enabled 2 500 persons (aged 16 to 55) to train and find a job in the restaurant trades. Its success rate in finding a lasting job is over 65%, which is outstanding. The team of 20 persons, volunteers and professionals, share the same conviction: training and work promote dignity and social integration for vulnerable persons. The Relais occupies former industrial buildings offering a main room that can accommodate up to 100 persons for a banquet. It is also a permanent cultural hub that receives contemporary works from painters and sculptors. Local authorities, corporations, State services, institutions and nonprofits, as well as many private individuals, use its catering and restaurant services.
A production facility unsuited to the growth of the company
The Relais is growing fast: its business has grown tenfold since its creation, without any change in its production capability. In agreement with its historic partners (City of Pantin, State, General Council, Regional Council), it has decided to refurbish and enlarge its premises. The plan is to create a spacious kitchen fully meeting standards for restaurant activity, and men/women dressing rooms for the personnel. To boost the seating capacity of the restaurant, an additional dining room will be arranged. And the refurbishing of the upper floor will help accommodate the administrative staff of Relais Restauration and to open a workroom for holding seminars.
Refurbished premises for a new lease on life
These operations represent a new step in the development of the company, converted into a Société Coopérative d'Intérêt Collectif (Community-Benefit Coop) in December 2012: reinforcement of its financial structure, consolidation of its internal organization, and adaptation to institutional and regulatory developments (European health standards).
Together with the Veolia Foundation, many public and private partners have mobilized on this major project, which also receives European funds (Feder), confirming the quality of the work of the Relais and also the importance of upgrading its premises, a prerequisite for its permanence.