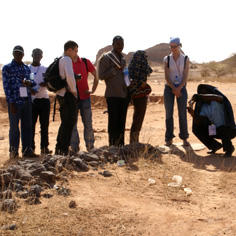 Humanitarian and Development
Place
Burkina Faso
Sponsor
Jean-Hugues Hermant-Lagrange
Grant(s)
€9,753 to the Selection Committee at 2010/03/30
Project leader
In less than two years, Réseau Projection (Assoprojection) has established links between young professionals (2 to 10 years experience) of South and North professionally engaged in favor of essential services in the cities of the developing countries. Thus Réseau Projection plans to participate in the transfer of experience between senior experts and junior professionals, removing barriers between professional circles and trades, a better representation of young professionals in international debates and events, and the creation of a space for exchanges between field workers and institutionals.
To do this, Réseau Projection offers junior professionals meetings associated with events, debates, monthly encounters, and also provides them with more virtual debating forums, such as the Internet space or the network news bulletin.
In January 2009, Réseau Projection proposed an international workshop on liquid wastewater services, gathering together over forty young professionals in Niamey, half West Africans, half French. The experience proved to be an essential factor for anchoring Projection in West Africa. This meeting led to reflections on the challenges of the sector, which gave rise to a concrete project to reinforce the capacities of the players in liquid wastewater services in Niger and West Africa. To consolidate this ambitious three-year project, the nonprofit is opening a branch this year in Niamey (Niger).
Reinforcing the links between professionals in waste management, to capitalize on their experience.
As in the liquid wastewater services sector, meetings and exchanges between waste management professionals prove to be indispensible to propel local reflections on the installation of a durable city-wide waste management system. And yet the expertise is only poorly exploited in waste issues. It is by participating in the networking of waste management professionals, and particularly those involved in the middle-sized cities of West Africa, that Réseau Projection wants to reinforce the local municipalities in their role as conductors of the system and initiate constructive projects built up to achieve this.
The Veolia Foundation has been approached mainly for the compilation of a directory of French and African waste management professionals in West Africa, and the publication of capitalization documents. Its grant will enable Réseau Projection to contribute more substantially to reinforcing the capacities of the young professionals in its activities (exchanges of best practices, field trips, debates with seniors, practical simulations).