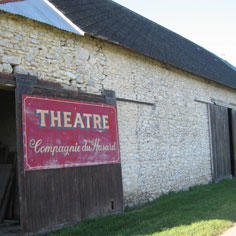 Social and Employment
Place
Feing, Loir-et-Cher, France
Sponsor
Jean-Luc Brault
Grant(s)
25,000 € to the Selection Committee at 2007/12/04
Project leader
La Compagnie du Hasard
"This company, which has been active for thirty years, works intensively with the youths of our district. Next summer, the team will take charge every morning of the children of the daycare centers of the community of communes, which means more than ninety children per week."

Jean-Luc Brault
From the slums of Lima to the French countryside, the Compagnie du Hasard has scoured the planet for three decades. Its goal, to provide access to culture for disadvantaged publics.
The company can also travel with its mobile 400 seat theater, particularly in the suburbs and the neighborhoods where culture is often absent.
It puts on shows with the youths of these neighborhoods by pooling the efforts of theater professionals and volunteer amateurs.
In 2004, La Compagnie du Hasard settled in Grand-Orme, a farm located at Feings, in the Blois country, on the castle route between Cheverny and Fougères. Although more and more "rurban" youths and families are setting in these areas, artistic and cultural offerings are virtually nonexistent, and one has to go to Blois or to Romorantin to find full time cultural facilities. By deciding to settle in a rural environment, La Compagnie du Hasard has therefore decided to transform the farmhouse of the Feings farm into a permanent 200-seat theater.
An outreach project in many respects
The first restoration projects were completed from 2004 to 2006, drawing in particular on workforce integration agencies (Association des compagnons bâtisseurs, ARC41, Acesm for youths in difficulty). For all these tasks, La Compagnie du Hasard took pains to preserve the beauty of the materials (wood, stone, slate and tiles), to find environment friendly heating alternatives, guaranteeing lower operating cost in winter (thanks to the advice from the Ademe environmental conservation agency). Besides, it is keen to create friendly, handsome and comfortable areas for the spectators. The parquet floors, the insulation and the partitions are built by the ARC41 integration firm.
The rural cultural center, which will then be developed around this establishment, will include a theater school accessible to youths and adults, a small 50-seat room for rehearsals and performances, a workshop for building the sets and accessories, open air theater spaces, a large car park, a conference room, and permanently installed huts to accommodate the actors, musicians and technicians in residence. Half of the pupils, from publics in difficulty, will attend courses free of charge. The farmhouse will accommodate the offices, dressing rooms and a reception hall for the public, with a book and video library.
By joining the project, the Veolia Foundation wanted to help La Compagnie du Hasard to place an expansive, rich art, capable of attracting all audiences, within the reach of all.