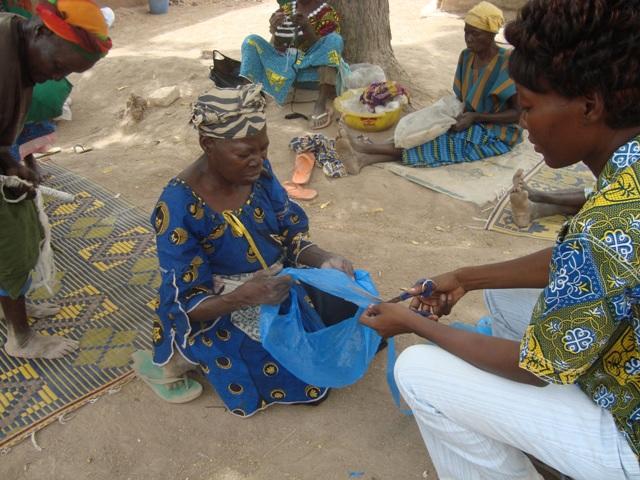 Humanitarian and Development
Place
Tanghin Dassouri (near Ouagadougou), Burkina Faso
Sponsor
Lionel Lacroix
Grant(s)
10 000 € to the Selection Committee at 2009/12/01
Project leader
"This project is particularly exciting because it combines the objectives of waste collection, recycling and job creation.It has also proved its worth, and will no doubt be extended to other communes."

Lionel Lacroix
Plastic waste represents one of the modern plagues of the African communes: they accumulate in dumps that are more or less well managed or even worse, along the sidewalks and in the streets.Blown about by the winds, they pollute the countryside as far as the eye can see, become sources of infection and transmission of diseases, and threaten to poison the livestock in the pasture lands which they invade.
The association Espoir Jeune Burkinabé, which works to improve the living conditions of the population of the rural commune of Tanghin Dassouri (20 km from Ouagadougou), decided to grapple with this nuisance by developing a waste collection activity and the production of recycled plastic objects that are subsequently sold.
Offering plastic school furniture at bottom price
To carry out the project, Espoir Jeune Burkinabé gathered together a number of players in a partnership agreement.The town hall of Tanghin Dassouri will provide a plot on which a waste processing plant will be installed, a recycling unit and a room for storing and marketing the products.The training center for plastic waste recycling trades in Burkina Faso will supervise the construction of the production unit.It will then train and hire the women volunteers of the association Neb Noama. Provided with the necessary equipment and appropriate safety apparel (boots, gloves, smocks), they will also take charge of collecting used plastics.The Veolia Foundation is joining in this initiative, which combines environmental conservation, the prevention of health risks, and economic development.Within a few months, the women of Tanghin Dassouri will be able to sell to the schools of the area the chairs and tables that they so urgently need.