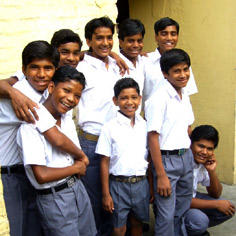 Social and Employment
Place
Delhi, India
Sponsor
Priyanka Bhat
Grant(s)
€10,000 to the Selection Committee at 2011/06/28
Project leader
Chaya France
"The Chaya France project follows a first, very successful children's home, and reflects the nonprofit's desire to expand its activities in this field. I am happy that we can contribute to the education and well-being of the poor children of the Delhi area."

Priyanka Bhat
In partnership with Onyva, an Indian NGO, the nonprofit Chaya France, created in 2006 by a French psychologist established in India, has initiated and managed the Tara Boys home for the abandoned children of Delhi, a small boarding structure accommodating a maximum of 20 boys. This is an innovative concept in India: abandoned children are normally housed in large institutions, where they face the same kind of violence that they find in the streets, because the staff is too small to take care of them. At Tara, the boys virtually find a family setting with the nonprofit's personnel and volunteers, enjoy a balanced diet and suitable medical care, and are encouraged to resume their studies. Sixteen boys aged 6 to 16 have been living in the Tara Boys home since2009. They are enrolled in the finest schools of Delhi and have succeeded in catching up with the boys of their own age group.
A shelter, medical and psychological care, affection and an education
Chaya France is setting up a new home, which it is calling Tara Tots, for 20 small boys and girls, aged 5 to 10. Based on the principles underlying the creation of Tara Boys, it is a small structure, designed like a foster family, offering security, health and education to the street children, but of a more tender age. The house has been leased in the south of Delhi, in an area close to Tara Boys, and equipped to the hygiene and safety standards recommended for young children. The personnel and volunteers recruited are trained and staffed by a team common to the two homes: the director of Tara, the education coordinator, the administrator and the accountant. The children accommodated get a medical checkup and are cared for accordingly. They can also obtain psychological help to help them address the violence that they may have suffered in the street and to recover their self esteem and trust toward others. Their work program is defined according to their age, and ensures a balance between the time devoted to rest, to play, to physical and educational activities, and to school work.
The funds required to create Tara Tots have been raised from private individuals, companies and institutions with which the Veolia Foundation is associated, sure of contributing to the development of a nonprofit that has demonstrated its professionalism with Tara Boys.