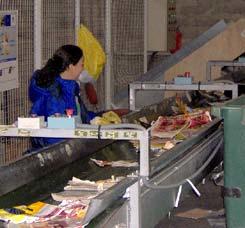 Social and Employment
Project leader
Place
Mantes-la-Jolie, Yvelines., France
Sponsor
Sophie Vidalis, Veolia
Grant(s)
20 000 € to the Selection Committee at 2007/01/31
"Remember to appreciate the opportunity you've received!".

Sophie Vidalis, Veolia
The Aptima association, located in Mantes-la-Jolie, has been working wirth very poor, unskilled young people. They have been doing this work since 1976. As time has moved on, the assocaiton has also helped the Val Fourré district population. Legally considered an employment association, Aptima has hired 10 full time workers and 22 other employees with a base employment contract. They all work on various activities developed by the association among which is a waste sorting center, two rubbish dumps, as well as services such as taking care of parks, fire departments, repairing and renting small trucks.
14 new jobs
In order to increase its capacity of hiring people, Aptima has the project of opening a new workshop specialized in recycling furniture, small electricals and various other items otherwise meant to be thrown away. After having studied the project, the association has come to the conclusion that those items, once cleaned, repaired and re-decorated, will sell at moderate prices. Aptima and its local partners (all specialized in reinsertion and environment) hope that this new activity will create 14 news jobs on insertion bases and 3 permanent jobs for the training team.
The Veolia foundation will help Aptima acquire part of the equipment and tools necessary for this project to become reality. By creating this new venture, Aptima will fullfill two very usefull functions for the people of the Val Fourré : it will provide a job and a foundation for some of them and it will help others acquire elements of daily comfort they could not afford.
* Aptima : Association which promotes work through adapted methods of reinsertion