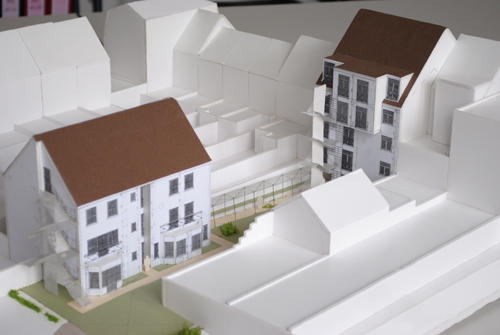 Social and Employment
Place
Bruxelles, Belgium
Sponsor
Cédric De Meeûs
Grant(s)
€20,000 to the Selection Committee at 2011/10/20
Project leader
"The project meets a genuine need for the city of Brussels. It is run by a team demonstrating impeccable professionalism, which has succeeded in developing a professional and political support network and works body and soul to provide a concrete and permanent solution to the families. "

Cédric De Meeûs
The nonprofit "Constellations" was created in late 2001 on the initiative of parents and professionals alerted by the lack of accommodation in Brussels for young people suffering a mental handicap and out of school. The shortage of accommodation requires their placement in structures that are very often inappropriate (rest home or psychiatric hospital) or leaves them to the exclusive care of their parents, who are often facing difficulties themselves. In either case, these youths are sidelined from the social fabric, quickly lose their skills and tend to relapse. Accommodation at appropriate structures, with the help of specialized educators, gives them activity and value and helps reinforce their capacities and independence. Constellations accordingly purchased a home in 2006 at Boitsfort (Brussels), refurbished it to standards to accommodate ten young persons suffering a moderate to severe mental handicap, as of late 2008. A sister nonprofit, La Passerelle, has taken charge of educational counseling for the beneficiaries. Having gained credibility through this first project and recognition by the local political leaders, Constellations has decided to initiate the creation of a new day center and residential facility.
A genuine living space, appropriate and permanent
Constellations is launching the construction of a day center and a residential facility each capable of accommodating 20 mentally handicapped persons (serious handicap). Designed to be a genuine living space, an alternative to a family environment, the home offers mentally handicapped persons proper supervision provided by a team of educators adapted to their level of self-sufficiency. They organize various activities where each can immerse himself to the extent of his physical, intellectual and psychic limits. The educational skills are maintained and stimulated permanently to enable each to play a role in society. The aim is therefore to optimize social integration by the work of the persons accommodated.
Thanks to the arrival of Dutch speakers on its board of administration, Constellations has opened up the project to members of the two linguistic communities, and 40 persons under open-term contracts run and manage the new centers.
The first project backed by the Foundation in Belgium
The project is powerfully backed by the local authorities: the Commune Community Commission of the Brussels Region, Rotary Belgium, Cap 48, United Fund Belgium are participating in its funding, as well as private individuals, because the nonprofit is skilled in mobilizing a broad public. The Veolia Foundation is investing particularly in the construction of a semi-professional kitchen for the day center, delighted to inaugurate an involvement in Belgium through this project.