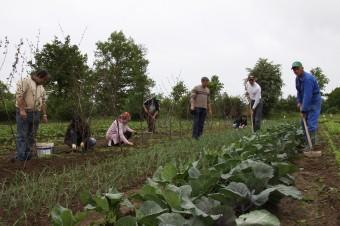 Social and Employment
Place
Woodlands country, Orne, France
Sponsor
Soazig Le Clouerec
Grant(s)
18 000 € to the Selection Committee at 2007/05/22
Project leader
AIFR Bocage
"The association has developed activities providing work for the largest possible number of persons. It has succeeded in adapting to this rural, barely industrialized region with workforce development projects dedicated to the upkeep of roads and banks, the refurbishing of buildings, etc. To integrate women and handicapped workers, the AIFR has developed garment, wood-decoration and gardening workshops, with the sale of home-grown vegetables. This determined spirit and sense of initiative characterize the members of the association. This small structure with limited resources continues to look out for new markets to create more and varied integration jobs."

Soazig Le Clouerec
Nearly 200 persons are working under integration contracts in AIFR (Association insertion familles rurales) in the woodlands of the Orne. Since 1990, the association has broadened its economic activities to gradually set up workforce integration projects: 80% of them deal with the environment, 15% with the building and finishing sector, 5% with heritage remediation, in addition to a solidarity garden and garment and decoration workshops.
To diversify its job offer and open up more to women and unskilled youths, the AIFR launched a new activity in 2006: collection in landfills, sorting and dismantling of small home appliances. The activity has grown decisively this year, with a move to new premises and plans to purchase a transport vehicle.
Moving into high gear
The goal is clear: to increase the waste collection volume from three to five tons. To do this, the association has to install the activity in more appropriate premises. Located in the handicrafts zone of Brière, the 600 m2 provided are accessible to the recyclers without generating too much noise for the neighbors. This will help double the number of jobs to 11, and extend collection to three new cantons. Yet the premises need a number of installations (electrical, dressing rooms and sanitary block) and the association plans to acquire a new transport vehicle. Through its grant, the Veolia Foundation will enable AIFR to successfully broach this new step in its development.