October saw the launch of the Bougainville Mission: a citizen research project attached to the French Navy fleet. The adventure is embodied by students from Sorbonne University who are being taken on board by the French military to carry out a homogeneous, participative, continuous and global measurement of the ocean microbiome.
Plankton Planet is the brainchild of researchers from the Roscoff biological station (Sorbonne University/CNRS), the American universities of Maine and Stanford, and sailors from the Tara Océan Foundation. The aim is to design a new generation of low-cost, open source, miniaturised plankton measuring instruments. What would they be used for? To study the invisible life of the oceans. This 'microbiome', a mixture of micro-organisms such as viruses, bacteria, protists and animals, contains the majority of marine biodiversity. It plays an essential role in regulating the ecology of our planet.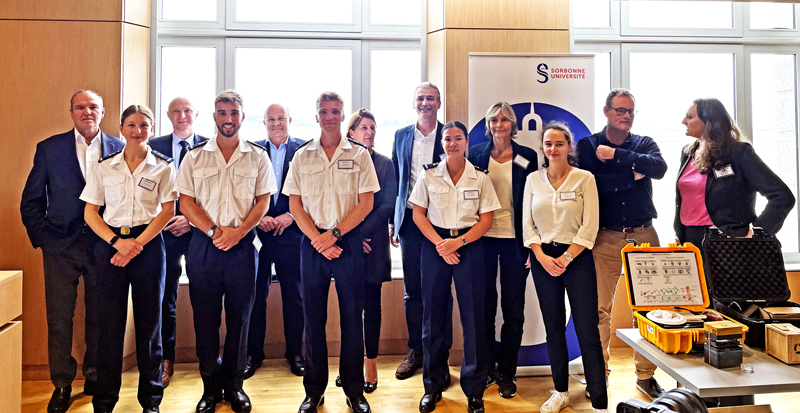 To realise this ambition, Colomban de Vargas, director of research at the CNRS, has not only designed 'frugal' sensors, he has also organised a collection campaign of rare ambition. By teaming up the French Navy with Sorbonne University via its Institut de l'Océan, he has laid the foundations for the Bougainville Mission. The scheme, supported by the Veolia Foundation, is unprecedented: to install sensors on board French naval vessels to take advantage of their presence in remote and little-visited areas of the ocean. With the help of Sorbonne University, master's students apply and are recruited to become biodiversity officers for a year.
The first four students have just embarked on the D'Entrecasteaux and the Champlain, two French Navy overseas support and assistance vessels that sail in the Pacific and Indian Oceans respectively. After a month's military training, they set off on the trail of marine biodiversity. Science in action to better understand climate regulation.
An unprecedented mission through partnerships
Behind this citizen initiative, Sorbonne University, its Institut de l'Océan and the French Navy are supported by the Sorbonne University Foundation, the French Office for Biodiversity (OFB), Naval Group and the Veolia Foundation.