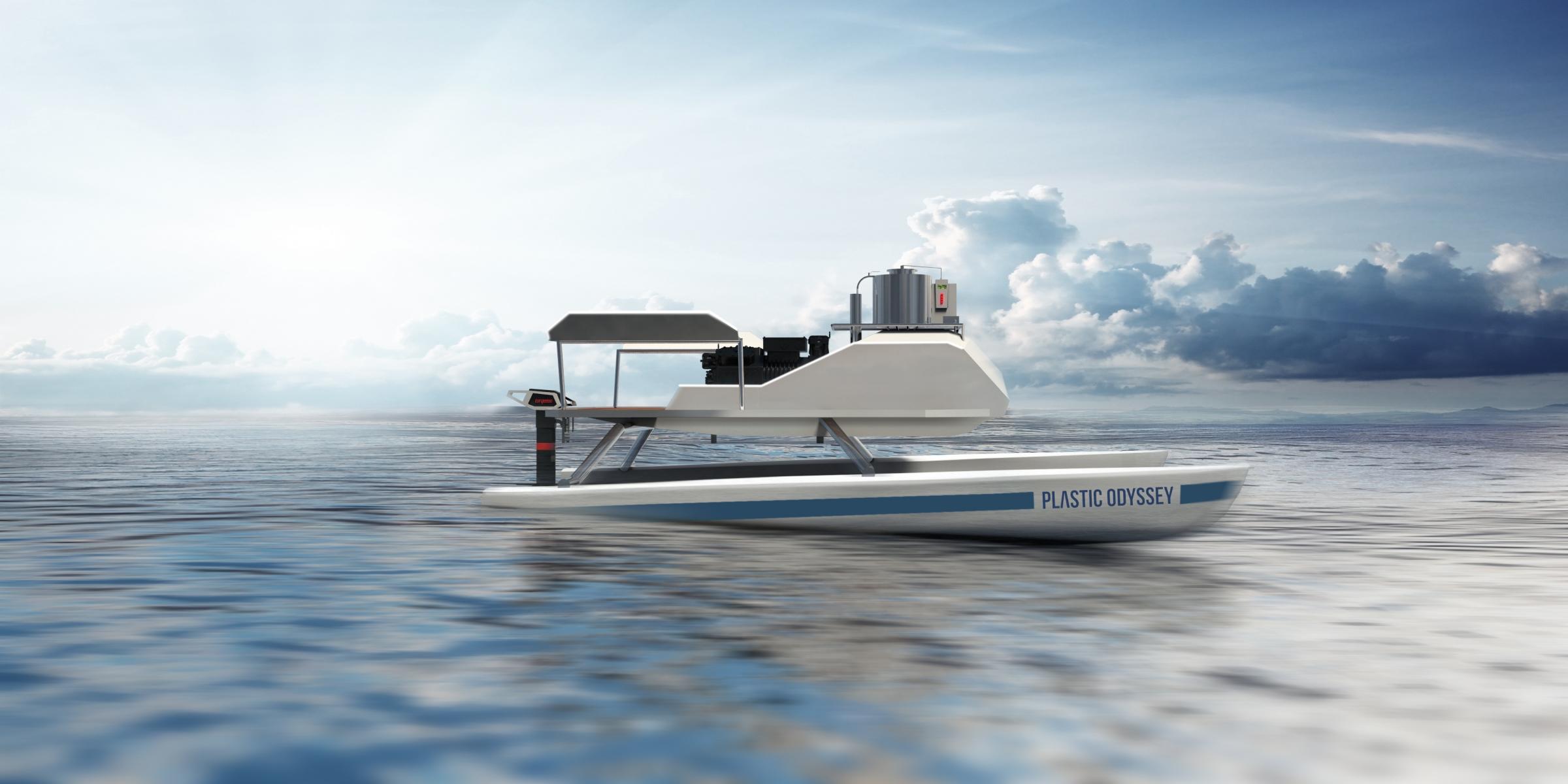 Plastic pollution: once it's in the sea, it's too late
Every day, nearly 26,000 metric tons of plastic waste is dumped into the ocean. The effects on the fauna and flora are devastating and at this rate, UN Environment predicts that in 2050, the ocean will contain more plastic than fish. 80% of ocean plastic waste comes from land-based sources. To stop this material escaping into our oceans, we have to act directly on the coast. Once it's in the sea, it's too late.
With this observation, Simon Bernard, a merchant navy officer, launched the Plastic Odyssey project. Surrounded by a team of engineers, he designed a vessel propelled by plastic waste that is transformed into fuel by pyrolysis. The process1, developed with SARP Industries, a Veolia subsidiary, will be installed aboard a 25-meter catamaran.
The boat will also be equipped with a recycling workshop. At each stop, plastic waste will be collected on land, sorted, then transformed: some of the collected plastics will be treated during workshops organized with local entrepreneurs and craftsmen. The rest, non-recyclable, will be converted into fuel to propel the vessel on a world tour lasting three years, starting in 2020. The expedition will educate as many people as possible about the solutions to plastic waste.
Before the actual boat is built in 2019, a prototype has been built and will be launched on 15 June in the presence of Brune Poirson, Secretary of State to the Minister of State, Minister of Ecological and Solidarity Transition, and the sailor Roland Jourdain2. It is an opportunity to demonstrate that waste is too valuable to end up in our oceans…
---
1- Which makes it possible to transform non-recyclable plastic into diesel and gasoline under the action of heat.
2- Whose Concarneau base hosts the construction of the vessel and its prototype.
 
Plastic pollution in figures
9.4 billion metric tons of plastic produced by humans on Earth
9% of this volume has been recycled
18 metric tons of plastic waste enter the ocean every minute
1% remains on the surface, the rest sinks or breaks up into microparticles
---
Source : Plastic Odyssey