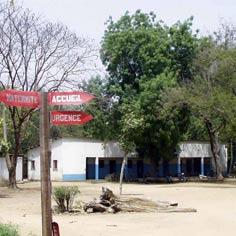 Humanitarian and Development
Project leader
Place
Tokombéré, département du Mayo-Sava, Cameroon
Sponsor
Anne du Crest
Grant(s)
15,000 euro to the Selection Committee at 2006/12/05
"The project of the Center for Human Promotion is exemplary in its overall approach to development, health, education, agriculture, economic growth, feminine promotion, which it aims to make sustainable. This approach has been built up through the years in contact with, at the request of, and then on the initiative of the local populations."
Anne du Crest
In 1975, Dr Christian Aurenche, physician and priest, settled in Tokombéré, the capital of the Arrondissement of the Département of Mayo-Sava, in northernmost Cameroon, 250 km from Garoua and 50 km from Maroua. In this Sahel area, where the dry season stretches from October to May, he devised a plan to help the population, estimated today at about 90 000 persons, to implement and control its own development. With the backing of the local and national authorities of Cameroon, and under the aegis of the Diocese of Maroua-Mokolo, Christian Aurenche founded the Center for Human Promotion to serve as a framework for this enterprise. From year to year, first encouraging the interest and then the active participation of the local population, the Center became the epitome of "sustainable development", long before the term was ever used internationally.
One danger: the lack of water
At Tokombéré, the Center for Human Promotion started by building a rural hospital, and then, a whole network of primary care: PME, prenatal accommodation, nutrition advice. Today, the hospital has 160 beds, and officially became a "district hospital" in early 2003.
As a second project, the Center built a Peasant's house, where the farmers obtain training in new agricultural techniques, livestock breeding, water saving methods, etc. The Peasant's house also manages a cereal bank to provide a bridge between two harvests.
The third project of the Center concerns the schooling of the children: the young of the Arrondissement are now taken in hand all the way through high school. The fourth project concerns women, by offering them literacy courses and giving them the means to engage in arts and crafts. And finally, the fifth project is economic: the Center for Human Promotion helps young people wishing to create small businesses (public works, carpentry, machine shop, etc.) to start up.
Fully integrated and supported by the population, all these projects are nonetheless faced with one danger: the desertification of the Sahel. With the aquifer levels dropping, the three wells which hitherto supplied the hospital, the Peasant's house and the Mission are no longer sufficiently deep to draw the precious resource. Two of the three main lines are already blocked. Tokombéré, the relay association in France of the Center for Human Promotion, accordingly approached fondation Veolia. With the endorsement of the experts of Veoliaforce, the future project is slated to drill a new borehole, 85 to 100 meters deep, equipped with an electric pump and connected by a very wide line to a water tower. Indispensable prerequisites for the current development of Tokombéré to remain sustainable.