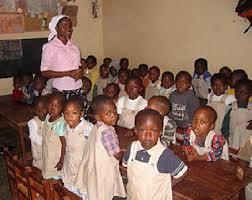 Social and Employment
Place
N'Diarone village, M'Bour province, Senegal
Sponsor
Jacques Chaigneau
Grant(s)
€10,000 to the Selection Committee at 2005/02/08
  Project leader Tche Kanam
« The project organiser, Nadine N'Diop, is a highly motivated woman and volunteer. Through a very professional process, she received the support of the village chief and women's committee as well as the governmental authorities. The women took charge of market gardening and a crafts shop whose profits are used for running the school. »

Jacques Chaigneau
All teachers say it and we have all seen it ourselves: knowledge learnt when one is very young is often that which we remember best. Certain of this reality, a French woman of Breton origin, who left to live in Senegal, promotes the construction of nursery schools in the country. Her first project, the "Little Ones' Cabin" in the village of N'Diarone, in M'Bour province, accommodates children aged from two to six. The project was backed by the Tche Kanam Association, established in les Côtes d'Armor in France in 2002, which raised the necessary funds.
With the village elders
The whole project has been managed with great discipline: raising awareness among the village elders, administrative steps with the relevant authorities, site studies, etc. In Brittany, it has caused a real movement and generated donations both from the public sector, such as the Area Council, and the private sector.
The €10,000 grant from the Veolia foundation made it possible to equip the site with lavatories, as well as the covered play area — flooring and painting — while building a fence and purchasing the necessary school furniture and supplies. After this first project, the Tche Kanam Association plans to build another school in the village of M'Bour. The town hall has already allocated a fenced plot for the purpose.