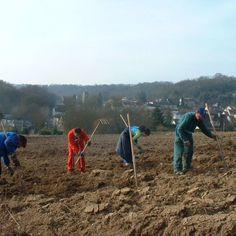 Social and Employment
Place
Conflans Sainte-Honorine, France
Sponsor
René Carel
Grant(s)
20,000 € to the Selection Committee at 2008/12/02
Project leader
ACR
« As an inhabitant of Conflans, I discovered this organic truck farming activity a few years ago.
The quality of the produce sold is appreciated by an ever growing number of customers ... to the point where the association is now facing production problems.
I think it's important to help it continue its work for individuals experiencing serious professional difficulties. »

René Carel
ACR (Acting against exclusion, Fighting inequalities, Uniting people and resources) was formed in 1978 at Conflans Sainte-Honorine.
Its mission is to help young people and adults to avoid exclusion - or to escape it - by promoting their social and professional integration.
It has been developing preventive projects for this purpose, access to housing and employment, and it individually and collectively accompanies all the persons who apply to it for help.
Among the various professional activities that it proposes, ACR manages a certified organic truck farm.
Recovering the taste for exchanges
On an area of 2 hectares provided by the town hall of Conflans Sainte-Honorine, it has 15 integration employees benefiting from aid contracts lasting six months to one year, and renewable once. The organic vegetables and fruits grown here are sold directly to consumers, in the form of weekly baskets.
Minimum wage earners, registered with the Plie, handicapped workers, apprentice gardeners, learn the techniques of organic truck farming and are encouraged to renew the social links that many of them no longer enjoyed before joining ACR. For example, they are the people who give the organic baskets to the clients of the association.
This offers a "sales opportunity" during which they recover the taste for exchanges with others.
For several years, this activity has met with growing success, both with the clients, and with the future gardeners. ACR has therefore decided to expand, by negotiating the grant of a new plot with the municipality. In addition, the aid granted by the Veolia foundation will enable it to equip this new space - and particularly to buy a production tunnel to protect the young shoots.
Thanks to this new farm, ACR expects to grow from 82 to 160 baskets sold every week, and also wants to increase the number of its employees.