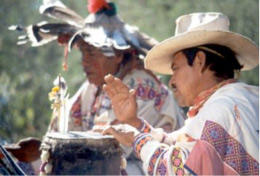 "This is a quality project, which has already begun and only needs to be completed. It has been taken over by a local technical committee which will collect a "tax" from each inhabitant to guarantee the maintenance budget. Another guarantee of success is that the projects conducted by Odapi are based on a sound cultural and sociological knowledge of the community: the technical alternatives conform to traditional practices."

Jérôme Cardineau
Since about 10 million Mexicans are Amerindians and live in very precarious conditions, Odapi (Organizacion de Desarrollo y de Ayuda a los Pueblos Indigenas), a Mexican civil nonprofit, was founded in 2005 to help them construct systems for drinking water, rainwater recovery, rural sanitation, and to carry out hygiene awareness-raising projects. It has also occasionally conducted refurbishing operations on rural health centers and bilingual schools. It has also participated in an educational project on the Huichol Amerindian culture, through the production of a documentary (broadcast in February 2011 on Télévision Suisse Romande) on this people of the Sierra Madre, who have preserved traditions close to the age of the Aztecs. In recent years, Odapi has built a drinking water and rainwater collection system, and has also refurbished the health center and Huichol community school of La Laguna (population 600) and built a drinking water and sanitation system for the Nahua community of La Esperanza (population 1100).
Drought and waterborne diseases
After having made a diagnosis of the water situation of the Huichol community in San Miguel Huastita (population 900), Odapi found that the Indian population living in the Western Sierra Madre suffered from a water shortage during the dry season (February to June), since the villages generally lie at a considerable distance from the permanent springs. The Huichol Amerindian community wanted to shorten the time for the water to arrive and avoid waterborne diseases, so that a study was conducted to determine which drinking water spring could be optimally used, thanks in particular to the funding of the municipal authorities of Mezquitic. The National Commission for Development of Indigenous Peoples (CDI) was consulted in order to secure the acceptance of the project by the federal political authorities.
Drinking water... All year round
The second phase concerns the installation of the piping and the system of valves to transport the water to the tank, a distance of nearly four kilometers, with a level difference of 365 meters and requiring no pumping. The tank is fed continuously by gravity, and is easy to maintain. The Indians freely participate in the fabrication of the system, taking charge of it technically and socially. The Veolia Foundation is focusing more specifically on the purchase of the equipment necessary for the installation; the villagers, the municipality of Mezquitic and Odapi will assume the operating and construction costs.
---
OTHER PROJECT SUPPORTED
Installation of a rainwater harvesting system for the Huichole community in the San Andres area.
Domain: Humanitarian and Development
Country: Mexico
Endowment: 2006/05/23
Learn more about this project