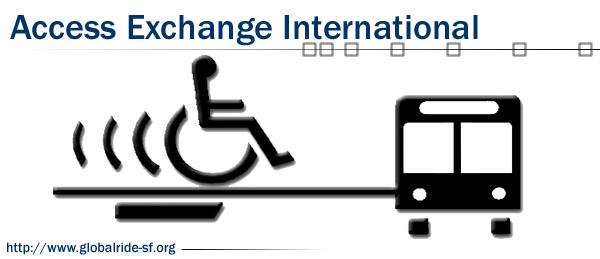 Social and Employment
Place
San Francisco, United States
Sponsor
Ron Bushman
Grant(s)
€10,000 to the Selection Committee at 2012/03/06
Project leader
"This is a project in which the Veolia Transdev employees can truly get involved by volunteering their expertise."

Ron Bushman
For the past twenty years, Access Exchange International (AEI) has been promoting the access of handicapped and elderly persons to public transportation in the developing countries. Workshops are established for the purpose in over 27 countries; a series of six guides (3 AEI, 3 World Bank) has been published for the attention of the 1 600 transportation professionals concerned by the issue in 90 countries, and a semi-annual news bulletin, the only communication available on the subject, identifies trends and describes the situation in the developing countries.
Identifying initiatives and permanent solutions across the world
So far, in fact, little information is available on the subject, even though the convention on the rights of handicapped persons was adopted and ratified at the United Nations headquarters in December 2006, by more than a hundred countries. In the countries of the South in particular, a small number of vehicle fleets is dedicated to this public, with mostly unimpressive results, in terms of profitability and organization. Access Exchange International therefore wants to publish a guide that will identify the initiatives and permanent solutions across the world, which can serve as examples and be duplicated, as well as those in which this specific transportation is included in broader demand transportation programs, or even integrated with existing transportation systems, in this case in the so-called developed countries. The guide is presented in the form of a practical manual with all the steps for an optimized implementation of the service.
Besides the financial participation of the Veolia Foundation for the publication of a guide, the project is supported by the expertise of volunteers from Paratransit, a Veolia Transdev subsidiary in San Francisco.