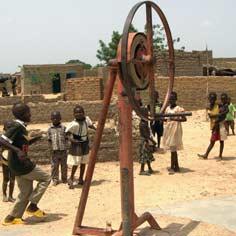 Humanitarian and Development
Place
suburbs of Ouagadougou, Burkina Faso
Sponsor
Marc Brault
Grant(s)
3,000 € to the Selection Committee at 2006/03/28
  Project leader Saint Aignan vocational high school
«  This fairly standard school project is being carried out on a very realistic basis and is chiefly noteworthy for the strong personal commitment of the young people involved.  »

Marc Brault
To raise students' awareness of the big global development challenges and allow them to acquire practical know-how alongside their theoretical knowledge, an increasing number of technical and vocational high schools are proposing very concrete development projects to their students. The Saint-Aignan vocational high school near Blois is a good example.
Teachers in the BEP section approached a local NGO and put together a project for installing a pumping system connected to a well in a suburb of Ouagadougou, the capital of Burkina Faso.
Very practical training
A group of 13 French students has been mobilized to work out the details of the project with the support of specialized companies (including Veolia Water/CEO) and install the two hydropumps in Burkina Faso. Later, two young Burkina Faso students will be attending the Saint-Aignan high school to study water treatment.
The 3,000 euros granted by the Veolia foundation will go towards financing this project – now an almost standard initiative but very effective both in terms of student training and improving living conditions for local inhabitants by facilitating their access to water.