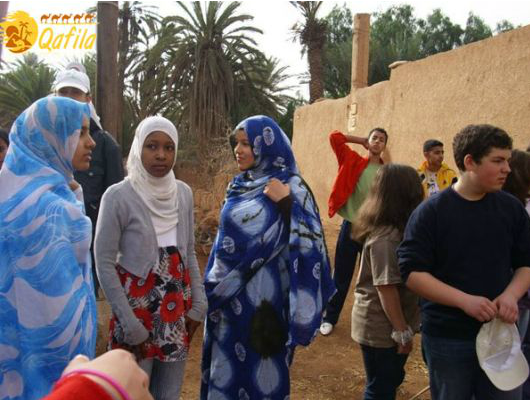 Environment and Biodiversity
Place
Tighmert, Commune of Asrir, Morocco
Sponsor
Ahmed Khattabi
Grant(s)
€40,000 to the Selection Committee at 2010/03/30
Project leader
Association Qafila
In the Sahara, oases are sources of life. This is where the populations settle and where business and tourist activities develop. They also condition the survival of the local fauna and flora.
And yet these oases are threatened, particularly by the use of palm wood to heat the water to the right temperature for the traditional baths. Lacking other alternatives, this is the routine solution. At Tighmert, a village of the commune of Asrir in Southern Morocco, the preservation of the palm grove has become a priority, as part of a project that combines respect for the environment and support for the local populations. Irrigation, schools, roadbuilding, crop farming, etc. For many years already, the nonprofit Qafila has been conducting many projects in the region, cultural, social and environmental. Today, it is building a communal hammam. By picking solar energy, it will sharply reduce the collection of firewood which the 200 resident families of the palm grove are now forced to do.
Closer, cheaper and more environment friendly
With this locally installed hammam, the inhabitants of the village will no longer need to heat the water for their baths. They will no longer have to pay enormous sums for transportation to the nearest hammams. The hammam will also be available to the 260 boarders of the regional high school, because their boarding school has no showers. The profits earned from hammam patrons will be plowed back to develop other environmental conservation activities. Besides, this structure will serve as a test to duplicate the use of improved boilers and solar energy in this desert region. The budget of the project, backed by the local players and authorities, is partly covered by the World Environment Fund (WEF) of the United Nations Development Program (UNDP). The Veolia Foundation is sharing in financing the well, the solar panels and the water re-use facilities. One way to recreate an oasis ... a really green one this time.