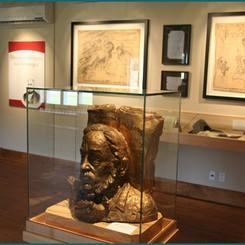 Environment and Biodiversity
Place
Saint-Jean-Port-Joli (Québec), Canada
Sponsors
Suzanne Guay and Langis Gamache
Grant
€15,000 to the Selection Committee at 2012/03/06
Project leader
Corporation Philippe-Aubert-de-Gaspé
"This project is completely in phase with Veolia expertise, and also adds a powerful cultural component: the Philippe-Aubert-de-Gaspé corporation represents amajor focal point for French culture in Canada."

Suzanne Guay
The Museum of Living Memory, inaugurated in 2008, is dedicated to the intangible heritage through the collection, amelioration and circulation of living tales and testimonies. Located in a tourist haven in Quebec, the historic site of the lordly manor ofSaint-Jean-Port-Joli, onetime residence of Philippe Aubert de Gaspé, the author of the novel "Les Anciens Canadiens (The Ancient Canadians)" and his "Memoirs", it stands as a focal point of French culture in Canada. The innovative concept of the Museum of Living Memory has been illustrated, from its inception, by highlighting the underlying principles of sustainable development: environmental conservation and community participation. Thus, the Museum of Living Memory collects the testimonies of his visitors who add their souvenirs and experiences to those already recorded: a living and original exhibition.
A garden unlike any other
The museum is the subject of a development project including a Garden of Souvenirs, which presents the museum concept outside the museum walls, and a Rain Garden, focusing on the environmental approach. In the latter, the runoff on the site is recovered, part of it treated (runoff from the parking lot) to clean it up before it enters the ground (especially motor oil and fuel), and another part (roof runoff) is upgraded to irrigate the garden, thereby conserving the drinking water resource. The project calls for educating a broad public (5 000 to 10 000 annual visitors) about the issues of surface runoff recovery and treatment, and the issue of protecting water resources in general.
The Rain Garden, which lies at the core of Veolia's water and wastewater treatment expertise, is naturally supported by the Veolia Foundation, which thus joins the Chaudière-Appalaches tourist development fund as well as other private partners.