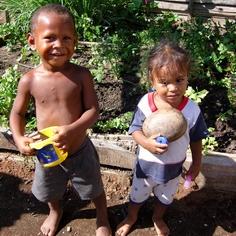 Humanitarian and Development
Place
Cartagena, Colombia
Sponsor
Manuel Barrera Medina
Grant(s)
48,000 € to the Selection Committee at 2007/05/22

  Project leader Granitos de Paz
«  The project to install sanitary blocks for 65 families, or about 350 persons, will have an obvious impact on the living and health conditions of these extremely poor populations. It is important to note that during the project construction phase, Proactiva engineers will be able to provide their help and expertise.
. »

Manuel Barrera Medina
Washed by the Caribbean Sea, the Colombian city of Cartagena, founded in 1533 by the first conquistadors, has two very different faces.
One, rich, attests both to its centuries-old history and the opulence of a city favored by seaside tourism.
The other, very poor, reveals neighborhoods among the most disadvantaged in the country.
Decades ago, the descendants of African slaves congregated here, at the boundary of the white city.
Yet from generation to generation, few of them have succeeded in improving the living conditions "inherited" from their ancestors.
Since 2004, one of these neighborhoods has benefited from the intensive investment (energy, time and also financial resources) of the Granitos de Paz Foundation. Supporting 1,600 families today, it is developing nutrition programs (distribution of lunches for children and the elderly), access to medical care, return to work (paper mills) and the accommodation of children of all ages (daycare system for babies and studies for the children).
Microcredits to improve living conditions
Yet the stroke of genius of Granitos de Paz is to have encouraged the inhabitants to go into biological and kitchen gardening in the very heart of the slum. Since the soil and groundwater are badly polluted, the foundation helps the families build above-ground tanks with locally produced bricks. Inside, they cultivate mint, basil and lettuce, of such excellent quality as to have obtained the international "bio" label, and very popular with the hotels and restaurants in the old city.
Henceforth, to encourage the inhabitants involved in the program, the Granitos de Paz Foundation has set a plan to install toilets and showers, an indispensable project to improve the health of the neighborhood.
The Veolia Foundation will help its Colombian colleague financially to complete this project in the 65 locations selected. For their part, the families will be asked to contribute as a means of empowerment. In order to pay 10% of the cost of the installations, they will obtain a microcredit loan that they can easily repay from the income earned by biological gardening. Besides, if the heads of families agree to register for literacy and management courses, they can obtain a reduction of up to 23%. These incentives are already proving to be successful.