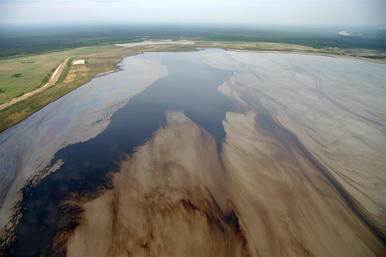 Environment and Biodiversity
Place
Alberta, Canada
Sponsor
Edwin Pinero
Grant(s)
€10,000 to the Selection Committee at 2014/10/17
Project leader
"The "Nexus" project is strategic for water management in Alberta and gathers together all the stakeholders around the present and future challenges of water in the city, from the economic, social and environmental standpoint."

Edwin Pinero
The Alberta WaterPortal Society, which acquired the status of a community benefit entity in 2014 ("charity" label), conducts exploratory research and shares the results on the Alberta WaterPortal, on the social networks. All citizens of Alberta can thus access information on water easily and free of charge, and voice their opinions on the issue.
Big pressure on water resources
Alberta is a city subject to very strong pressure on water resources because of its economic development (comboned oil, gas and agricultural activities), the growth of its population, and the impact of climate change. The Alberta authorities have decided to implement an integrated resource management system, but no tool or framework is yet available for constructing the system by connecting energy needs, environmental conservation and water management.
Water's economic footprint
The "Nexus" (i.e. "link") project run by the Alberta WaterPortal Society consist in calculating the economic footprint of water in the province of Alberta and encouraging better management of the resource by supplying scientific data usable by decision-makers, researchers, and also disseminated to the mass public. It aims to analyze the interconnections between water, energy and food for a better grasp of the economic and environmental impact of water management in Alberta. The goal is to offer a better focus for decisions taken on water management and economic development. A working group, made up of national and international experts, including Veolia, relies on feedback from the various local and regional public players to guide water-related decisions.
Results accessible to all, scientists, specialists and individuals
The results of the work done will be released to scientists, political economic managers and the experts concerned on the Alberta WaterPortal, thanks to a specific module. To educate the mass public on the proper management of resources, primarily water, the conclusions will be accessible to all via a specific page, containing a learning module, simplified reports, a presentation of the way in which water is managed by the authorities. The information will be relayed in a blog and on the social media.
A recently published study on integrated water management in Alberta
Since the "Nexus" project is closely connected with the Group's water management expertise, the Veolia Foundation is naturally backing it. It is particularly supporting the installation of communication tools adapted to the appropriation of the scientific results by the broadest possible public.