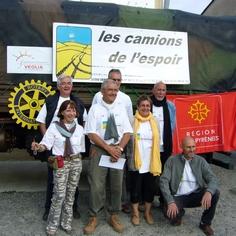 Humanitarian and Development
Place
Timijout (province of Essaouira), Morocco
Parrain
Gérard Lacombe
Grant(s)
10,000 € to the Selection Committee at 2008/05/27
Project leader
Les Camions de l'espoir
« The association's work and the project are extremely useful in vital areas. In fact, among the operations planned or already completed by Les Camions de l'Espoir, water supply, the installation of toilets in the school, etc. offer the population of the villages concerned better access to hygiene and health. The grant from the Veolia Foundation will help speed up the operations. »

Gérard Lacombe
On the territory of the commune of Takoucht, the Douar School of Timijout has not been maintained for many years. The main building, rather run down, has neither a dining room, nor toilets, nor electricity. Only three classrooms accommodate 150 children, and a room of about 10 m2 is the management office.
To rectify this situation, the association Les Camions de l'Espoir, founded in the 1980s in Haute-Garonne, and which has conducted many outreach projects in Morocco and Mauritania, today proposes to rehabilitate the school to enable the children to get their schooling in satisfactory conditions. The association was already active in the region in 2006 to install a pumping station, and is therefore familiar with the area.
A project that is part of the battle against illiteracy
The rehabilitation of the school involves renovating the classrooms, bringing in water and electricity, and building a dining room and four toilets for boys and girls. These future sanitary blocks will encourage the parents of the little girls of the environs (about forty students) to send their children to school, whereas today, they stay at home because of the lack of suitable facilities. The study conditions will thus be improved, aiding the battle against illiteracy.
The south-west branch of Veolia has also signed a twinning agreement with Morocco, and can assign a local sponsor to the project to can handle the file more easily. This operation will enable Camions de l'Espoir to expand their action further in the region, after the many advances already achieved in the areas of hygiene and health.
---
Other project supported
Les camions de l'espoir
Domain : Humanitaire et Développement
Country : Maroc
Endowment : 2011/06/28
Rehabilitating a rural school in southern Morocco