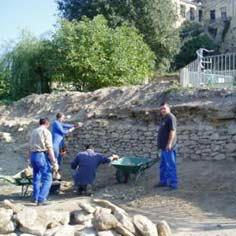 Social and Employment
Project leader
Le passe muraille
Place
Aubais and Tavel, Gard, France
Sponsor
René Vielzeuf
Grant(s)
20,000 € to the Selection Committee at 2006/10/03
"The back-to-work projects in Tavel and Aubais are the fruit of reflection carried out since 2005 with government agencies and the Gard country council, which were keen to offer more subsidized employment schemes in an area where there are few appropriate structures. By the end of this project, these people suffering from severe problems of social exclusion should be in a position to apply for a job or undertake a suitable training course."
René Vielzeuf
How can you become the "builder" of your own life when you have the feeling that you don't have anything to offer? Le passe muraille, which has been running subsidized employment schemes since 1999, has an answer that seems obvious and perfectly simple: by building things!
Rediscovering a taste for life
In the two communes of Aubais and Tavel (Gard), it is offering 26 people without work (young people in difficulty, RMI (minimum-income support) beneficiaries and long-term jobseekers) an opportunity to carry out restoration work.
In Aubais (2,000 inhabitants), they will be restoring the dry stone walls along the path leading to the village and developing a rest area for tired ramblers arriving on foot or on horseback. In Tavel, they will be working on the dry stone walls of enclosed gardens in an old part of the town to restore their original beauty and creating a public garden.
In parallel, throughout the period covered by their employment contracts, they will benefit from individual assistance to help them move back into work. The goals will be adapted to the particular situation of each person: some people simply need to learn how to motivate themselves; others need to qualify for a training program or obtain an actual qualification.
The support of the fondation Veolia will help the organization acquire a 9-seater minibus to transport the employees to the different worksites. By learning to work together and share tasks, which may well be gratifying but often involve very hard work, the organization hopes they will rediscover the pleasure of a job well done.