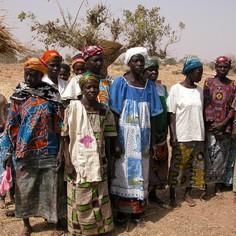 Humanitarian and Development
Place
Ouéguédo, Boulgou province, Burkina Faso
Sponsor
Jérôme Augeraud
Grant(s)
€20,000 to the Selection Committee at 2010/06/22
Project leader
Jumelage Ouéguédo
"This water reservoir on a former backwater will meet the needs of the population and the water requirements identified by a survey conducted by the Regional Directorate of Agriculture, Water and Halieutic Resources of the Center-East Region of France in August 2009. It will also help consolidate and reinforce the nearby agri-pastoral activities."

Jérôme Augeraud
In Burkina Faso, the rainfall has been declining steadily for several years. Agriculture and livestock, which represent the main economic activities of the country, are obviously suffering the consequences, and it is estimated that 90% of the population are affected.
This problematic situation has no doubt caused the government of Burkina Faso to adjust the position it has held until early 2009: a ban on building water reservoirs to supply the dams.
Pursuing this new guideline, the municipal council of Tenkodogo (Boulgou province) is planning to build a water reservoir in the village of Ouéguédo (6 km from the town) for a downstream hydro-agricultural development project. After a geophysical survey which validated the concept, it was decided to provide a structure with a capacity of 30,975 cubic m.
A solid partnership between Chinon and Tenkodogo
To complete this project, the commune of Tenkodogo reached out to its longtime partner, ADUC (Agence de Développement et d'Urbanisme du Chinonais), whose cooperation center has been running international programs for the last ten years.
From the inception of the project, ADUC was involved in setting it up, providing technical and administrative support for the local teams, and particularly through the management of the Water Board of Tenkodogo. Thus, the Twinning Committee for Cooperation between Rivière (near Chinon) and Ouéguédo was assigned to lead the project.
With the grant from the Veolia Foundation, the worksite is now making headway. The reservoir will ultimately serve to continue the truck farming operations outside the rainy season and to cultivate the rice during the winter.
 
This dam will also cause the groundwater to rise in the wells and boreholes, substantially improving the water supply of the population. And in addition, they will benefit from training modules to reinforce awareness of issues related to hygiene, health and water policy.