The Secretary General of the United Nations, Ban Ki-Moon, went aboard the scientific schooner Tara during COP 21. Two years after his first visit in New York, he learned about the progress of the work done on plankton during the Tara Oceans expedition between 2009 and 2013, which was supported by the Veolia Foundation.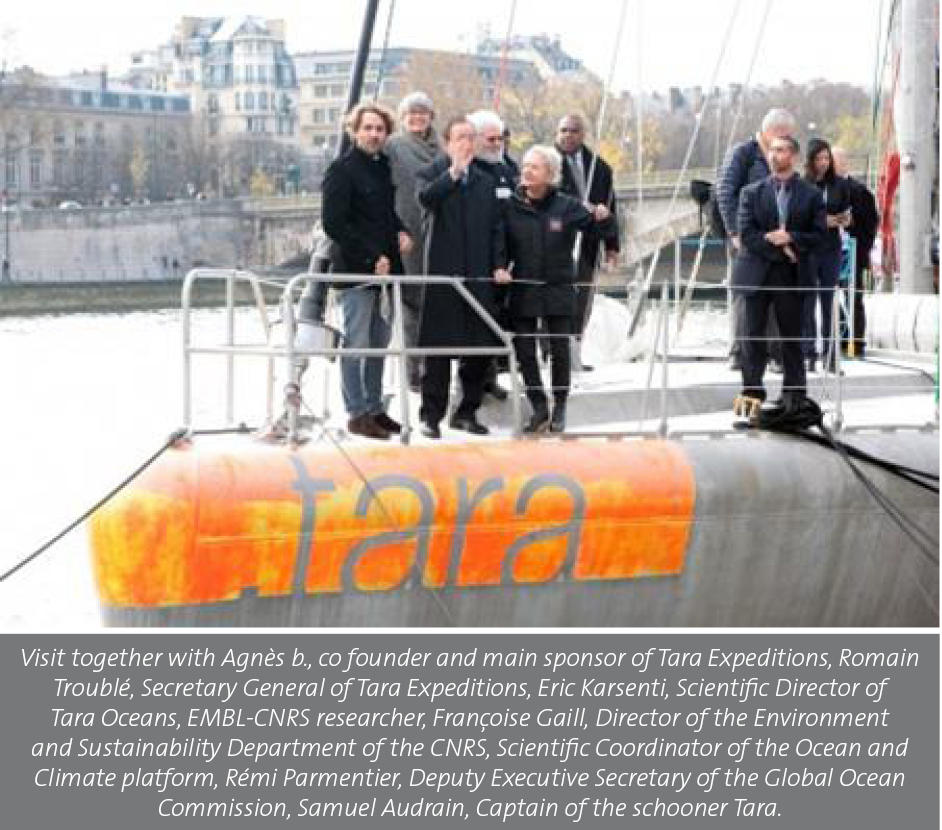 The schooner, moored in the heart of Paris at the foot of the Grand Palais, supported the aim of reaching a climate agreement that would help fight global warming. The Tara Ocean & Climate pavilion, which extended on to the quayside of the Seine, hosted a series of events focusing on the ocean and ensured that these issues were included in the universal agreement signed at the end of COP 21.  
A symbolic victory for all defenders of the sea
"For the first time there is mention of the ocean as a vital ecosystem for the climate. It is a symbolic victory for all those people that defend and are passionate about the sea, for Tara Expeditions, and for the organizations involved in the Ocean and Climate Platform that have spent the last 2 years working to create the momentum needed for this recognition,"
says André Abreu, Head of Environment and Climate at Tara Expeditions. He added,
"The mention in the preamble of the final text ("noting the importance of ensuring the integrity of all ecosystems, including oceans..."), which is not however a binding part of the agreement, is evidence of a global awareness of the major role of the ocean in climate change (as a carbon pump, heat storage, etc.). This awareness was also reflected at the level of heads of state and national delegations with the signature of the Because The Ocean declaration. On the side-lines of the Paris agreement, 22 countries pledged to support decisions that would ensure greater consideration of the ocean.
" Find the complete analysis on the
Tara Expeditions site
.  
A unanimous agreement
"The text of the agreement is a good compromise for all countries. A differentiated approach now means the specificities of the most vulnerable countries and the greater responsibility of developed countries in global warming have been recognized.
"
Read the full article
The Veolia Foundation welcomes the unfailing work of the Tara team which helped to ensure the success of COP 21.