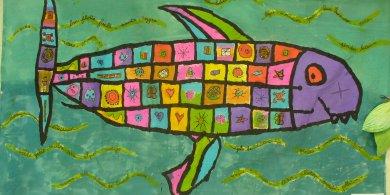 Environment and Biodiversity
Place
Lyon, France
Sponsor
Pascale Ceccaldi
Grant(s)
10 000 € to the Selection Committee at 2012/06/05
Project leader
"Nearly 9 000 students have participated in the Regards de Rhône program since the start of this adventure: a real success story!!"

Pascale Ceccaldi
The Lyon nonprofit SeA Sciences et Art has been active since 2000. Under the dual motto of "Create to love and learn and Create to love and preserve', it offers environmental education activities through artistic culture. Many programs have thus been developed, including events connected with the Greater Lyon education and sustainable development plan: field trips to the Pierre-Bénite water treatment plant, the Anneau Bleu (blue ring) educational program, Val-de-Saône events, and Regards de Rhône, Rhône en rêves, Rhône en vrai, a flagship project of the regional river educational campaign, enjoying the Rhône plan label (Région Rhône-Alpes, RMC Water Agency).
Long-term, in-depth awareness in children
Since 2003, every school year, the children and teachers of the primary schools in the 200 riparian communes of the Rhône are invited to explore their river and turn it into a giant collective artistic portrait (per class). Owing to its recreational aspect, the project is also proposed to the leisure centers and centers for handicapped children. For counseling in this waterway adventure, the teachers are handed an educational kit. Composed of booklets for the teachers, and tales for the children, the kit, specifically designed for the Rhône territory, offers each individual the means to adapt the proposed exploration to his local river. This education in water and the river is entertaining and adapted to the children and their view of the world, by sharing their own experience with the family memory marked by the use of the river water. With a range of 50 to 100 classes or groups of children per year, no less than 9 000 children have (re)discovered their river and the impact of water on their lives.
The Veolia Foundation supports this Rhône river discovery program.