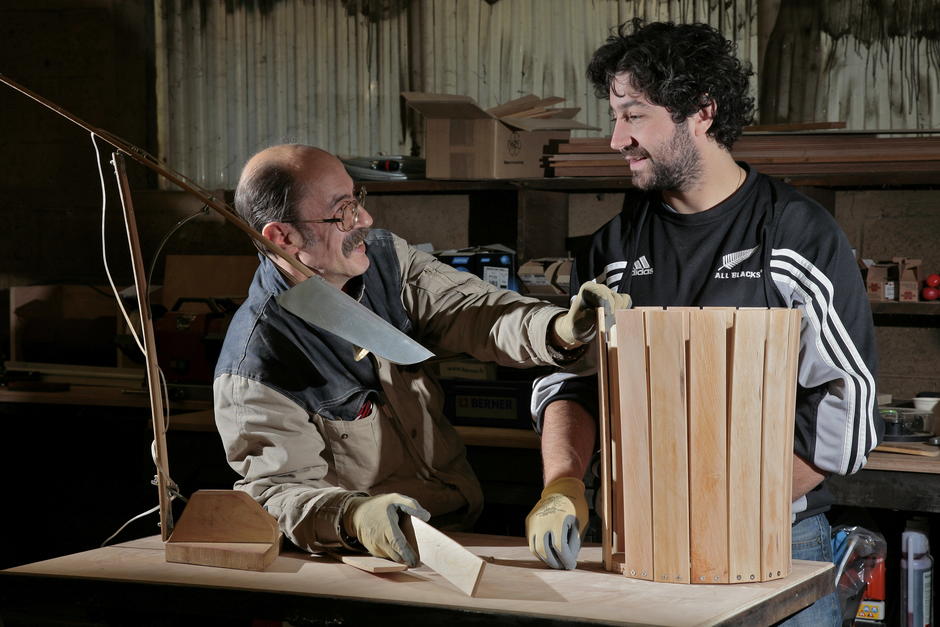 Social and Employment
Place
Seine-Saint-Denis / Haut-de-Seine, France
Sponsor
Pascal Peslerbe
Grant
€20,000 to the Selection Committee at 2013/12/10
Project leader
I have been personally supporting Extramuros since its inception, and I joined the experts committee in 2013 to provide better guidance. In my opinion, its social project, the production of small series of fine meaningful objects, is of general interest.
The Extramuros workforce development agency was created in 2005 and was installed in Gennevilliers in 2007, with the support of the foundation and its sponsor Pascal Peslerbe, in premises close to the Veolia Environmental Services waste transfer facility. Extramuros designs, produces and distributes to companies furniture and accessories prepared from recycled materials and by environment-friendly processes. Alongside qualified back-to-work professionals, the agency hires, trains and counsels jobless persons to help them stabilize their social and professional situation permanently and independently.
Market opportunities with responsible companies
In 2010, Extramuros benefited from the "Scale Up" program run by ESSEC and financed by the Rothschild banks, which "accompanies the scaling up of agencies with a strong social impact". The agency is accordingly drawing up a three-year development plan designed to triple its income and the number of its back-to-work employees, by promoting ecoresponsible French arts and crafts (joinery, carpentry, metal working, sewing and tapestry). The plan particularly highlights the opportunities for Extramuros on the market for responsible corporate equipment and gifts.
A necessity: boosting its production capacity
To guarantee the success of its development plan, Extramuros raised funds from shareholders who forgo dividends and reinforced its sales function in 2013.
The third prerequisite:it has to reinforce its production capacity. This implies moving to a larger site, arranging a storage yard for the recycled materials (the agency's raw materials), enlarging the joinery-carpentry shop, creating a metalworking shop and internalizing part of the sewing activity.
The project calls for Extramuros to move to a site in Romainville (Seine-Saint-Denis) that is unoccupied today, close to the future Veolia facility in Aubervilliers. This site is located in the Horloge business park, which is undergoing sweeping changes with the construction of a large business hub, new housing, and reinforced public transport (extension of the subway and tramway).
A district undersized in comparison with its back-to-work needs
The Seine-Saint-Denis district is undersized in terms of workforce development agencies in comparison with the social and professional needs of the inhabitants: DIRECCTE promotes the development of workforce development structures on its territory.
Extramuros plans to boost the number of its back-to-work employees (another eight to ten workstations in three years, or some forty persons accompanied by 2017) and the number of apprentices (four or five workstations created in three years, or a dozen apprentices trained by 2017). Eight full-time employees work at Extramuros today. They will grow to a dozen on completion of the development plan, half of them qualified in manual arts and crafts (endangered trades: carpenter, modeller, seamstress, ironworker). They only work using traditional arts and crafts techniques and with environment friendly products and processes.