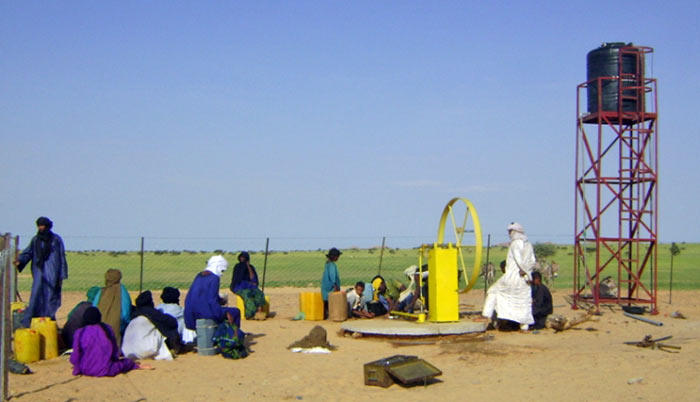 Humanitarian and Development
Place
Northern Niger
Sponsor
Serge Castella
Grant(s)
10 000 € to the Selection Committee at 2009/12/01
Project leader
Since its creation at Montauban in 2000, the humanitarian association Les Enfants de l'Aïr, has been active in Northern Niger. Having gained experience in the field, it has decided to initiate a program to feed the children in the schools in this area, with which it is now familiar. In the village of Echkar Tagaza, an enclave located 200 km south of Agadez, 130 km northeast of Tanoul and 80 km east of Tagdofat, thirty families of nomadic breeders who have lost all or part of their herds because of the drought or damage caused by rain, have been forced into a sedentary way of life.
The encampment, which has one thousand two hundred inhabitants, is settled around a traditional well dating from the 1950s, and is quite often faced with problems of water shortage, both for the animals and for the humans.
Necessary new infrastructures to develop the project
Drilling a new well equipped with a hand pump, excavating irrigation canals, installing a raised tank for drip irrigation, will alter the situation for the better.
The creation of these infrastructures is an indispensable prerequisite to the implementation of the "school canteens" project dear to Les Enfants de l'Aïr, in agreement with the population concerned. A storage room for food, another for preparing meals, and latrines, will round out the installations.
Tools, seeds, a market garden in each school, a wire mesh fence, shrubs, will help feed the children with cereals and food supplements at a declining rate for five years, before reaching self-sufficiency. The creation of a herd of goats per school will also help provide the milk needed by the children, with the surplus sold along with the market garden produce in excess of immediate needs.
The participation of the Foundation in this project, which is classic for the area, is a fait accompli, especially since the association's involvement in the region is a guarantee of confidence in the implementation and perpetuation of the installations.