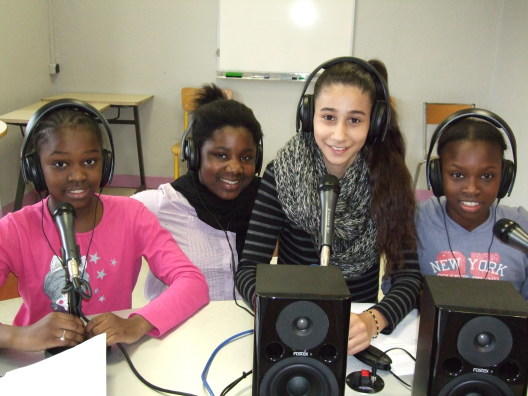 Social and Employment
Place
Mantes-la-Jolie, France
Sponsor
Fatima Diallo
Grant(s)
€7,000 to the Selection Committee at 2013/04/09
Project leader
"As part of this program, LFM Radio proposes the environmental minute, a weekly broadcast aired every Friday at 3:00 pm, and then podcast on their site. The participation of the staff of Veolia and the Veolia Foundation would be powerfully appreciated for their expertise on environmental subjects!"

Fatima Diallo
LFM, from its original name Elles FM, is a nonprofit radio based in Mantes-la-Jolie in the Yvelines district. A local, civic radio station close to its public, it broadcasts programs in a 60 to 70 km radius and enjoys a solid reputation as well as the support of local public personalities. In fact, as a genuine tool for social cohesion around suburban issues and, in particular, concerning the position of women in our society, the nonprofit wants to bring the population and the generations together by conducting diversified activities in the areas of communication, culture and social development. Since 2009, it has accordingly been using the 95.5 MHz frequency with, as a backdrop, the enhancement of the suburbs through the eyes of women and the fight against all forms of discrimination, social and professional integration of the vulnerable population, and their maintenance in the community.
5 schools equipped with radio broadcasting studios by 2013
To teach the younger students about radio broadcasting, the nonprofit organizes and runs training and initiation workshops in the whole range of schools and other local youth structures. Four schools - mainly located in priority education zones - were thus equipped with radio broadcasting studios in 2012. Over there, the youths, often coming from disadvantaged backgrounds, reinforce their capacity for analysis, synthesis and elocution by recording a 15-minute weekly broadcast, which is then broadcast on airtime. Today, to offer the largest number of kids this opportunity, the nonprofit wants to equip another five schools with broadcasting studios.
Schoolkids and apprentice journalists
The Veolia Foundation is participating in the purchase of the equipment required for the new broadcasting studios.