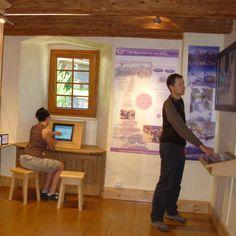 Environment and Biodiversity
Place
Meylan, Haute-Savoie, France
Sponsor
Marie Lalande
Grant(s)
15 000 € to the Selection Committee at 2008/01/29  Project leader Centre de la Nature montagnarde (CNM)
"Since the issue of water is so important for our 21st century, enhancing consumer awareness is an excellent idea. Interactive systems help reach all audiences, according to the age, language, knowledge and sensibilities of the visitors."

Olivier Roquet
At Sallanches, in Haute-Savoie, the castle of Rubins hosts the Centre de la Nature Montagnarde (CNM), where the natural mountain heritage has been highlighted and disseminated since 1998. It has a major resource center with several thousand books in its naturalist library, an educational center, a scientific center and an exhibition center. Every year, some 17,000 students come there to add to their school knowledge about environmental conservation, and another 30,000 visitors discover the various exhibitions organized there.
Water, a scarce asset
Buoyed by this success, Centre de la Nature Montagnarde had decided to continue refurbishing the 600 m2 of exhibition space, a project initiated in 2005. It wants to create a showroom fully dedicated to the theme of water through a comprehensive approach. The idea is to focus on water in the mountains, and also throughout the world and especially in the developing countries, by presenting lakes, waterfalls, peat bogs and a variety of animals, including beavers and otters.
To animate and enliven the exhibition and to demonstrate once again the success of its initiatives aimed at all publics, the center had decided to use multimedia and interactive techniques. The aim is to make everyone aware of the importance of preserving the "water" resource and its scarcity.
The Veolia foundation has agreed to participate in completing this showroom, alongside the municipality of Sallanches and the "Pays de France" Foundation. It will help to partly cover the costs of the design office, printing of the panels, the purchase of furniture and IT hardware, as well as photo licenses, short films and software.