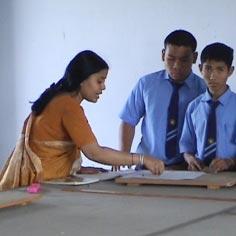 Humanitarian and Development
Place
Bodhicariya, 30 kilometres from Calcutta, in India, India
Sponsor
Pascal Corvoisier
Grant(s)
€10,000 to the Selection Committee at 2005/02/08 Project leader AJHA
«  This is a cultural and humanitarian association working from France that is defending the right to education and culture of Bangladeshi refugee students in India. The solar power station seems an absolute requirement for the Bodhicariya school, especially for IT and other exercises. »

Pascal Corvoisier
At the time of India's partition, the Chakma ethnic group, who came from the area that would become Bangladesh, decided to take refuge in India. Since then, it has been trying to survive both economically and culturally. In Le Mans, France, a group of Chakmas who have been living in France for several years established the Ajha Association to provide support to the community that stayed behind in India.
For example, Ajha is helping in the teaching project at the Bodhicariya school, 30 kilometres from Calcutta, which includes around 200 poor children from Chakma refugee families and 160 Indian children.
The Lycée de la Baronnerie, near Angers in France, has a specialised study programme in renewable energy sources and encourages its students who are finishing their technical studies or trade licence course to develop solidarity projects with the countries that most need them.
 
Finally be able to use an electrical system
The solar power station will supply electricity to a science laboratory.
The needs of one side met the expertise of the other when the leaders of the Bodhicariya school made it known they had a massive need: the town's electricity system did not reach them. Using the capabilities of the students and teachers at the Lycée de la Baronnerie, a project for a solar power station was organized. Designed to meet the wishes of the school leaders, it makes it possible today to provide electricity to an information technology room to get the preparatory and high school classes started in IT, but also to a science laboratory.
The school has also bought multimedia equipment such as a TV, camcorder and overhead projector, as well as office software for the school administration.
The Lycée students installed the power station and set up the IT room in August 2005.
The €10,000 grant from the Veolia foundation financed about a quarter of the project.