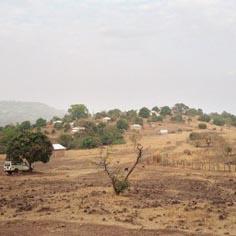 Humanitarian and Development
Place
Naddhal, Guinea
Sponsor
Nathalie Natta, Veolia Energie - Dalkia
Grant(s)
€13,000 to the Selection Committee at 2005/12/06
Project leader
Au Soleil
Situated 600 km north of the capital, Conakry, the village of Naddhal has about 550 inhabitants living in several hamlets. The village has a well that supplies it with water of good biological quality and at a high rate of flow. The problem, and it is a major one, is that the water is unfit for human consumption because of its high iron content.
Thousands of kilometers away, EauSoleil, a non-profit organization created by teachers at the Alexandre-Bérard vocational high school in Ambérieu-en-Bugey who specialize in trades associated with renewable energy, wants to promote these alternatives in development projects. Several students at the secondary and post-secondary levels in Bourg-en-Bresse have already played an active role in solar pump projects in Moroccan villages.
Multiple, and efficient, partners
In a partnership with Saga (Solidarité Action Guinée Ain), a non-profit organization created by the teachers and students at another high school in Ambérieu whose principal, Amadou Diallo, is originally from Naddhal, EauSoleil decided to do what it could to make Naddhal's well water drinkable by everyone, with no health risks. The project, which is supported by the Guinean water and energy department, involves equipping the well with a solar pump and a system to remove iron from the water by natural oxygenation and then building a mini-network of six public standpipes.
When asked to help finance the project, the Veolia foundation joined a list of French public bodies (foreign affairs department, Rhône-Alpes region and Ain département) and other companies, awarding a grant of €13,000. The local Dalkia team (which includes a former student of Alexandre-Bérard high school who is involved in the project) offered its technical expertise for the installation of the solution chosen.