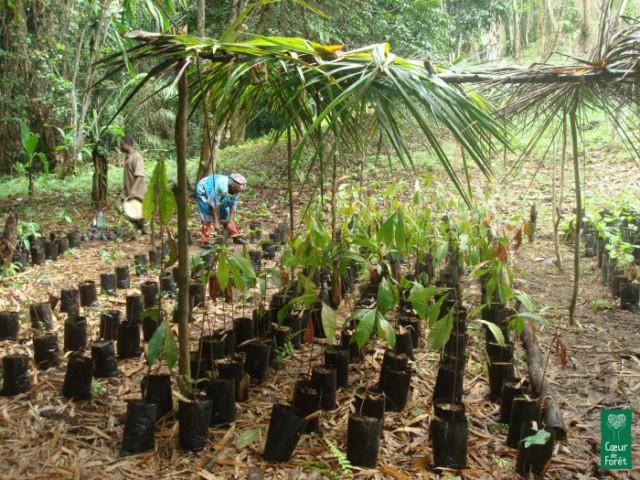 Environment and Biodiversity
Place
Lomgbon-Pouma, Cameroon
Sponsor
Jean-Pascal Rigolleau
Grant(s)
€12,000 to the Selection Committee at 2013/12/10
Project leader
"The nonprofit Cœur de Forêt has been striving successfully for many years to protect the primeval forest and to improve the quality of life of its inhabitants, while meeting their expectations and respecting local traditions. Its projects are adapted and diversified, from biodiversity regeneration and environmental conservation to the development of income-generating activities, and including the building of community infrastructures for access to drinking water, electricity and health."

Jean-Pascal Rigolleau
Created in 2005, the nonprofit Cœur de Forêt mounts reforestation and development projects in third world countries (Madagascar, Cameroon, Peru, etc.) to propose alternatives to deforestation. It counsels the communities in setting up agroforestry, market-garden and rice-producing plantations, in order to conserve and enhance the biodiversity of these regions, and to diversify the food supply of the villagers. It also helps them process their products, find new markets (fair trade circuits and production of essential and vegetable oils) and to improve their living environments (access to water, electricity and means of communication).
Thousands of plantations for family crops
Developed in partnership with the Sococofosa local cooperative, the project is located in southwest Cameroon, in the village of Lomgbon, not far from the town of Pouma (130 km east of Yaounde). Its goal is to stop the disastrous deforestation of the Moabi (Baillonellatoxisperma) which produces a fruit consumed by the large forest mammals (elephants, monkeys) and of which the almond is processed into an edible oil or cosmetic. This means planting and cultivating 7500 Moabis on 20 hectares (5 hectares on the site of the coop and 15 hectares as family gardens) as well as market-garden and aromatic plants on 25 family plots (1000 to 2500 square meters).
The project also calls for the construction of a training room for the coop, the purchase of a 10 kW three-phase generator to develop the plant pressing activity, and the construction of a drying plant. Once the cultivation is permanent, it is also aimed to develop the processing of the Moabi and the other forest products.
SOS Moabis
Spread over six years (from structuring to the installation of the infrastructures and equipment, up to the smooth running of the environmental and economic aspect), this major program, which benefits all the surrounding villages, enjoys the support of the foundation, particularly for the plantation of a thousand trees, the installation of 25 market-garden crops and the purchase of the generator.