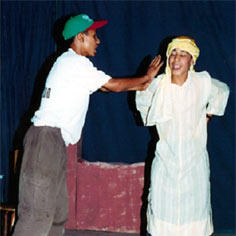 Social and Employment
Place
Marrakesh, Morocco
Sponsor
Ahmed Khattabi
Grant(s)
45,000 € to the Selection Committee at 2008/01/29
  Project leader Groupe Développement and Atfalouna
"I'm a native of this region of Marrakesh-Tensift-El Haouz, where a third of the 3 million inhabitants are under fifteen. Unemployment and poverty drive many of these children to the slums and the outskirts of urban areas. For these children, whose numbers are growing, who end up in the streets, the action of associations like Groupe Développement and Atfalouna is essential. They are doing an outstanding job with few resources. We must help them."

Ahmed Khattabi
Hunger, beggary, prostitution, glue "sniffing" to forget ... the tragic everyday life of a growing number of children left to themselves in the streets of Marrakesh.Some have left home, others have been abandoned by single mothers or desperate parents, and yet, in the Mellah neighborhood, the poorest of the city, where most of them end up, they have created their own universe, promulgated their own rules, to survive willy-nilly by exploiting every expedient within reach.
Is there a way to take charge of these children to give them back a minimum of markers?To offer them routes to school or professional rehabilitation and integration?To protect those who have not yet crossed the line?Faced with these vital questions, two associations are consolidating their joint and already recognized action by creating a new welcoming home in the medina.
Giving the children the chance to flourish
Groupe Développement, an NGO created in 1981, is active on the four continents today in microcredit programs, the battle against the exploitation of and traffic in children, and outreach tourism around the same motto: "Life, not survival".Its Moroccan branch approached the local association at Atfalouna — "Our Children" — whose twelve volunteers and twelve employees have been mobilized since 2003 to help the street children, young victims of maltreatment, like the young girls employed as "housemaids" in the affluent families of the city.
Together, these two organizations are arranging premises on three floors with a terrace to accommodate 90 children, feed and to clothe them, provide medical observation and help them find or return to the path to school.Located near the Jemaa El Fna Square, the beating heart of Marrakesh, the present Atfalouna premises could thus be dedicated to night accommodations. Yet the project's ambition doesn't stop there: extending the action of Atfalouna aimed at young girls, thanks to reserved access and space; preserving the children undergoing integration from the negative influence of other still unstable youths; blazing trails to jobs by involving the girls and boys in the production and sale of our arts and crafts.
The Veolia  foundation, already a partner of Groupe Développement on a project for fighting the exploitation of young girls in India, is therefore backing this initiative even more solidly, by fully supporting the priorities set by Morocco in its 2006-2015 national action plan for children.