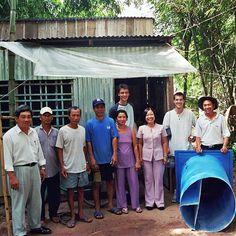 Social and Employment
Place
An Giang, Vietnam
Sponsor
William Seemuller, Veolia
Grant(s)
11 000 € to the Selection Committee at 2005/05/31
Project leader
Estacaide
«  I really believe in this project. Last February, I visited Cambodia and Vietnam and sailed down the Mekong river. We established contact with primary schools in Vietnam. It came as a shock to learn of some of the basic needs from teachers. The initiative put forward by Johan Desclaux ties in with my own desire to work more closely with these populations to help meet their needs. »

William Seemuller
Vietnam, the Mekong delta : this destination may at first seem like something out of a novel by Marguerite Duras, conjuring up images of picture postcard landscapes. Images of rice granaries, the muddy waters of the river flowing majestically into the China sea not to mention all those floating markets and the remnants of colonial architecture.
However, those students from the Estaca engineering school who set up the Estacaide association know only too well that the harsh reality on the ground is a world away from any romantic novel or the pages of a travel guide. Every year, they select a site where they can provide an impoverished town or village with assistance and expertise. Following projects in Romania and Madagascar, the students decided that, in 2005, they would devote their efforts to the province of An Giang, in Vietnam, close to the Mekong delta.
Construction and education
To ensure the success of its project, Estacaide has called on assistance from the Franco-Vietnamese association, "Les Lucioles". The students can thus benefit from its experience in running educational programmes aimed at poor communities and organising disease prevention campaigns..
The six students from Estacaide who are participating in this initiative have set themselves the objective of renovating six classrooms and installing a number of septic tanks. In addition, in a country where the French language is retreating before the onward march of English, largely due to the sheer cost of books, they have also decided to run classes in hygiene and AIDS prevention and provide the appropriate books and school supplies.
The total budget for this operation is 23,000 euros. The Veolia foundation is contributing 11,000 euros which will be used to buy equipment needed to renovate classrooms and purchase school supplies.