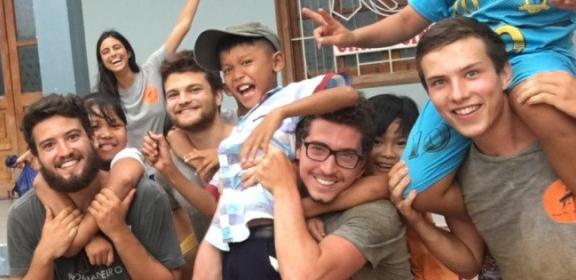 Humanitarian & development
Location:

Liên Son 2 (Sud du Vietnam)

Sponsor:

Aurélie Tran Ngoc

Grant:
€5,000 at the 28 November 2018 Selection Committee (2019 Student Solidarity Awards 2nd prize)
Project owner
Since its creation in 2011, Récup'Eau Vietnam aims to improve living conditions for people in the village of Lien Son 2, in southern Vietnam. Students from the Ecole Centrale de Nantes, members of the association, actively participate in fundraising by organizing various events: food sales on campus, sports competitions, crowdfunding, etc.
In Lien Son 2, access to water has improved and, on the sanitation side, some 50 latrines have already been financed and built. The villagers have received glasses, books, bandages, school materials... And the youngest children have been benefiting from English lessons since 2016. In 2019, Centrale de Nantes students began preparing a project to recycle plastic waste.
Design and manufacture of a plastic treatment machine
Like many other villages, Lien Son 2 is polluted by plastic waste. To tackle this issue, Récup'Eau Vietnam has designed a "REV'machine" – in other words a grinding machine, extruder, injection press and compressor, all in one. The aim is to create a complete plastic recycling loop, from waste treatment (grinding) to producing moulded objects and thin cables. The Association also wants to raise public awareness of the challenges posed by plastic pollution in the environment.
By providing a waste treatment solution, Récup'Eau Vietnam will revive the local economy: recovering plastic will become a village recycling activity within a local circular economy.
The project won the 2nd prize in the 2019 Student Solidarity Awards organized by the Veolia Foundation. It received a grant of €3,000 to complete the REV'machine and build more dry toilets.