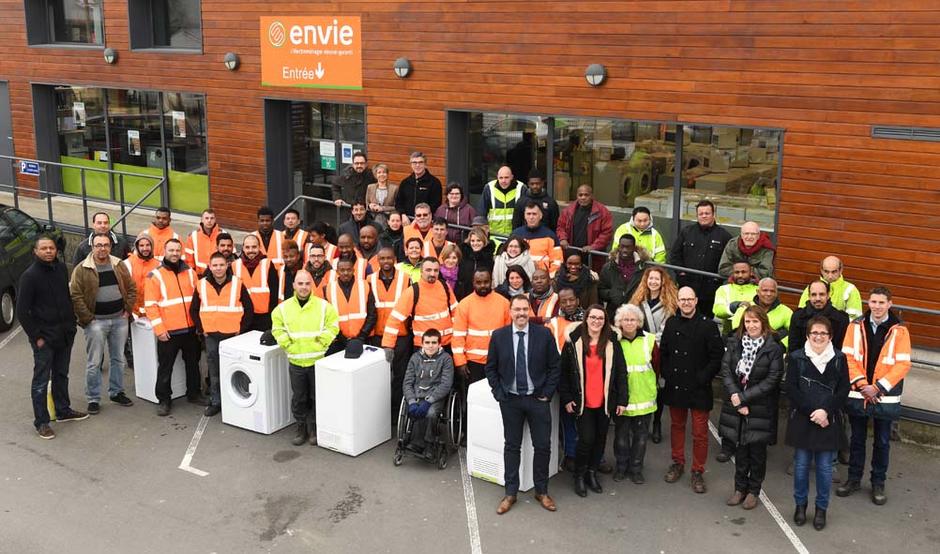 Social & Employment
Location:

Ille-et-Vilaine (France)

Sponsor:

Martial Gabillard

Grant:
€5,000 at the selection committee meeting on 16 March 2020
Project leader
The registered and approved Ressources T structures employ job seekers in difficulty and offer them a personalised social and professional integration programme based on work experience. The company is firmly rooted in the local area: this cooperative (Scic) has formed partnerships with local authorities in Ille-et-Vilaine and more widely in Brittany to ensure the best possible opportunities for the people it supports.
The network's employees, also known as "Envie", can work on renovating and selling second-hand electrical equipment, processing WEEE, dismantling mattresses and sorting construction site waste, as well as on transport and logistics activities. With the takeover of Trocabi, a new sector will be open to them.
Trocabi, a long-time player in Rennes, France
The wonderful story of Trocabi began in the 80s: volunteers organized a clothing exchange to allow families to acquire clothing at the lowest possible cost. Forty years later, the structure has become a permanent second-hand store, and a work integration enterprise since 1991. In the two shops that have opened over the years, three salaried employees now supervise seven work integration employees. And since the beginning, 300 people, mainly women, have received support.
But the two founders and managers, Eliane Kasprzak and Gérard Niay, are retiring in 2020. To ensure the activity continues, they have signed an agreement with Ressources T.
A takeover coupled with a development project
There are various challenges involved in Ressources T's takeover of Trocabi. It is of course a question of ensuring the continuity of the activity but also of developing it. The aim is to create four additional jobs, in particular by opening a new store in a priority area of the city. To do this, it will be necessary to modernise and update internal procedures in order to free up enough time for supervisory staff to train and provide the best possible support for people on the work integration program.
Better communication, adapted to social networks, should make it possible to diversify the customer base and develop both sales and the average basket in the stores. The Champs Manceaux store will also be enlarged and renovated, which should make it possible to organize events that will raise awareness.
Ressources T therefore has great plans, supported by the Veolia Foundation, to ensure that the social and solidarity economy remains a dynamic sector in the city of Rennes.